Becoming an airline pilot is technically challenging and expensive, yet ultimately very rewarding. You'll be naturally wondering how much the average airline pilot salary is and how much pilots will earn once they have their wings and are ready to work.
How Much Is the Average Airline Pilot Salary?
What is the typical airline pilot salary in the US? As of May 2021, the median annual wage for US airline pilots, co-pilots, and flight engineers was $202,180. Pilot salaries, however, vary greatly, largely influenced by factors such as airline, experience, and aircraft type. The vast majority of airline pilots earn between $100,110 and $208,000.
This has been an exciting article for me to research and write. Piloting is an incredible career. Sure, there are long, unsociable hours, but in my view, the pros outweigh the cons.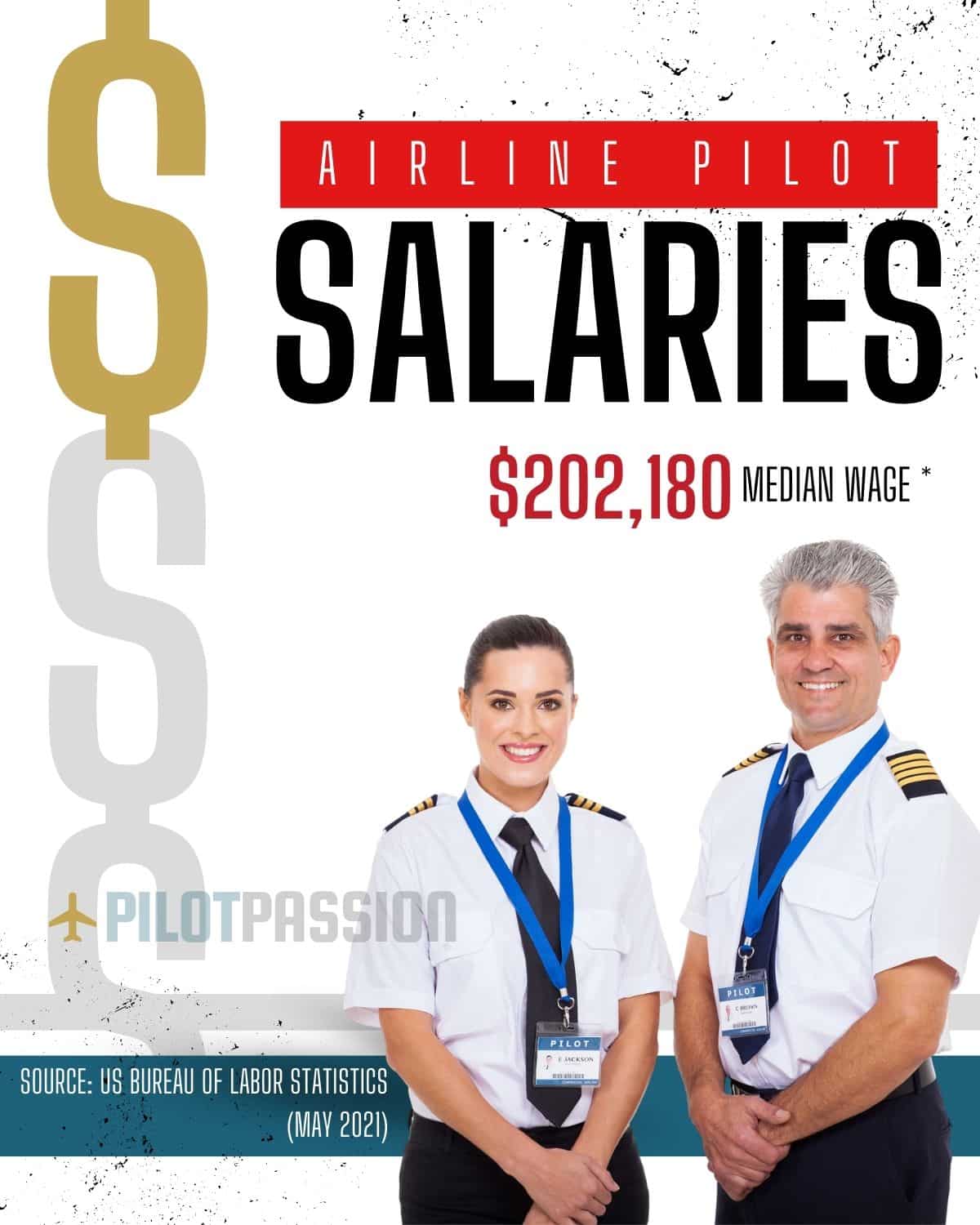 In this article, I'll cover everything you need to know about airline pilot salaries.
Disclaimer: At PilotPassion, I take great pride in reporting data as accurately as possible. I have spent many hours researching to compile this information into an easy-to-read format. Given that I got this information from different places, please think of it as a rough estimate for informational purposes. If you want to talk about your career with an airline, I suggest you contact the airlines of your choice directly to find out about their latest pilot job openings.
Let's kick off with a basic definition before I dive into the airline pilot salary survey data.
How I Define An Airline Pilot
An airline pilot is a type of pilot who is qualified to operate commercial aircraft, either transporting passengers or cargo, or both. Airline pilots often have a good choice of airlines to work for. There are regional, national, and international carriers.
There is a general misconception out there among non-aviation people when they ask questions like, why do airline pilots get paid so well for turning on autopilot? If only things were really that simple!
Besides requiring plenty of technical competencies, airline pilots also need to have strong soft skills such as leadership, communication, and the ability to work well in high-pressure situations. It's not for the feint-hearted!
The Main Points: Airline Pilot Salaries
Did you know that pilot salaries vary greatly between airlines depending on a ton of factors like aircraft type, routes flown, experience, credentials, and union membership?
Also, airline pilots tend to be paid hourly and not on an annual basis like most other professions of this caliber. This is mainly because of the irregular and unpredictable nature of airline work. More on this later.
According to Glassdoor.com, the top 5 paying airlines in the United States as of September 2022 are:
Cathay Pacific – $137,538
Boutique Air – $120,046
United Airlines – $113,759
Alaska Airlines – $112,608
Delta Air Lines – $111,185
Average airline pilot salaries in the US
According to the US Bureau of Labor Statistics, the median annual wage for airline pilots, copilots, and flight engineers was $202,180 (as of May 2021). The type of airline and the pilot's level of experience can make a big difference to rates of pay.
I've compiled these tables of airline pilot salaries from this source. From this sample below, you can easily see at a glance how much the salaries vary by airline and by number of years of service.
For this sample, I've selected Year 1 to show a commercial pilot's starting pay, as well as Years 5 and 10 of service.
Examples of Airline Captain Salaries (annual) by US Airline
| | | | |
| --- | --- | --- | --- |
| Airline | USD Year 1 | USD Year 5 | USD Year 10 |
| Delta Air Lines | 191,796 | 198,149 | 206,199 |
| United Airlines | 213,513 | 220,489 | 229,252 |
| Southwest Airlines | 176,904 | 185,422 | 196,392 |
| FedEx | 156,954 | 176,712 | 182,484 |
| United Parcel Service | 37,918 | 235,341 | 241,882 |
| Alaska Airlines | 191,574 | 198,549 | 217,881 |
| JetBlue | 125,546 | 159,810 | 170,176 |
| Hawaiian Airlines | 201,600 | 209,475 | 220,500 |
| Spirit Airlines | 86,072 | 115,500 | 135,406 |
Airline Captain Salaries (annual) by US Airline
Examples of First Officer Salaries (annual) by US Airline
| | | | |
| --- | --- | --- | --- |
| Airline | USD Year 1 | USD Year 5 | USD Year 10 |
| Delta Air Lines | 66,854 | 127,009 | 206,199 |
| United Airlines | 73,744 | 141,719 | 156,555 |
| Southwest Airlines | 53,352 | 120,529 | 129,617 |
| FedEx | 49,728 | 111,222 | 124,986 |
| United Parcel Service | 37,918 | 150,689 | 167,651 |
| Alaska Airlines | 78,543 | 133,029 | 146,556 |
| JetBlue | 44,957 | 100,682 | 114,022 |
| Hawaiian Airlines | 32,400 | 98,550 | 113,400 |
| Spirit Airlines | 33,264 | 76,196 | 92,560 |
First Officer Salaries (annual) by US Airline
As pilots gain more experience and move up through the ranks, they'll likely receive salary increases and various other benefits.
Going for interview? Mastering your responses to targeted interview questions for pilots demonstrates your technical and leadership abilities.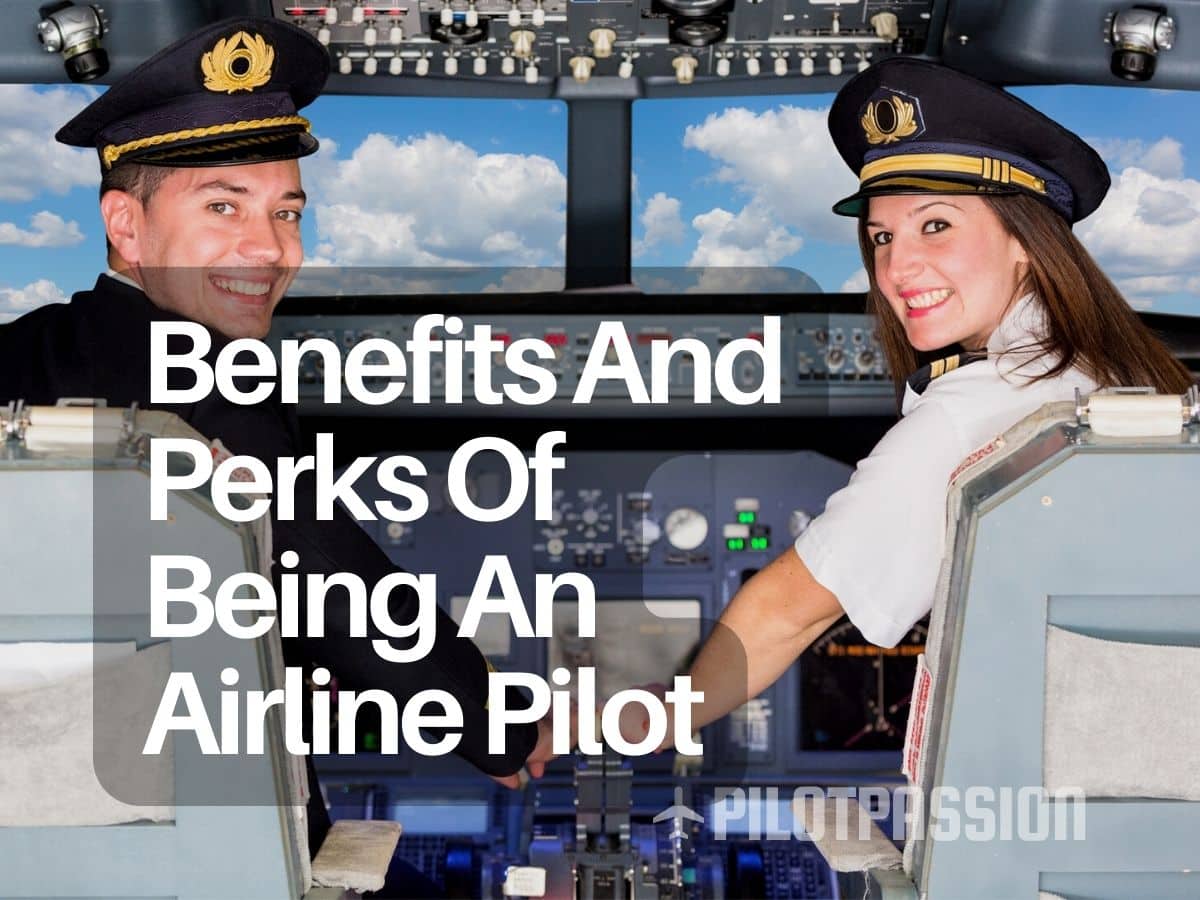 Benefits And Perks Of Being An Airline Pilot
Back in the day, airline pilots were considered to have realy cushy jobs. They were seen to be lie superstars with an almost celebrity-like status. While that culture has changed over the years, an airline pilot is still seen by many as a very prestigious career.
In addition to getting paid well, airline pilots tend to get many other benefits and perks. Here are just some of them:
Health insurance and retirement benefits: Many airlines give their pilots health insurance plans that cover a ton of issues. They also offer generous retirement benefits. These could consist of 401(k) plans, pension plans, and other ways they can save for retirement.
Paid vacation and sick time: Nothing noteworthy here, just like other professionals, airline pilots get paid vacation and sick time.
Perks related to travel: Perhaps it's an obvious one, but the chance to travel is one of the most alluring benefits of working as an airline pilot. This can be done through their own airline or through other airlines. Different airlines sometimes have special arrangements in place for free or discounted flights. They might be able to book flights at a discount for friends or family members.
Job security: As the aviation sector bounces back from the major global events of 2020, there's likely to be a higher demand for pilots in the years to come. Experienced, well-trained pilots are more likely to enjoy job security and career advancements at their preferred airline.
Challenges And Drawbacks Of Being An Airline Pilot
Even though there are so many good things about being an airline pilot, it's important to highlight that there are some challenges and drawbacks involved. No such thing as a free lunch, right? Here are the main drawbacks that come to mind:
Lengthy and erratic work schedules: Airline pilots tend to put in long and erratic work schedules, including weekend and midnight shifts. Lots of unsociable hours involved. They might have to fly on short notice or on standby, which can interfere with their personal plans and wear them out. I know from experience that this type of working life doesn't work for me. That's why I'm a private pilot! Each to their own I suppose.
Pilots often have to spend a lot of time away from their families. That's tough for pilots with young kids and other family obligations.
High degree of responsibility and stress: Pilots have a ton of responsibility. They need to work very well under pressure to the safety of their passengers and crew. There is stress involved and Harvard researchers have reported on the mental health effects of the job.
Physical and mental requirements of the job: To get their license, pilots must pass difficult tests of their physical and mental fitness. The physical demands of the job, such as prolonged periods of sitting and the impacts of jet lag and time zone shifts, must also be met. It's definitely not for everyone.
Factors That Affect Airline Pilot Salaries
Here are a few factors that affect an airline pilot's pay package:
Type of airline and routes flown: Regional airline pilots tend to earn less money than their counterparts who work for national or international airlines. This is true because smaller markets are often served by regional airlines. The regionals don't usually have the same resources or demand for flights as the major carriers.
Level of experience: Like many other jobs, airline pilots usually make more money as they gain more experience. Pilots with more years of experience and flight hours may be paid more than their less experienced competitors.
Flying a larger or more complicated aircraft may bring in a better salary than flying a smaller aircraft. This is due to the fact that flying larger aircraft demands specific pilot ratings, more technical knowledge and skills. Commercial planes cost a lot of money because of their sheer size and the high technology involved.
Many airline pilots are union members, which may give them the ability to demand higher pay through collective bargaining agreements. Strength in numbers! If a pilot is not in a union, they may have less power in negotiations and as a result, may end up earning less pay.
Location and cost of living: An airline pilot's pay may be impacted by the cost of living in a given area. For instance, pilots who work in cities with higher living costs may receive higher pay to compensate for that.
What Are The Requirements And Qualifications For Becoming An Airline Pilot?
To become an airline pilot, you have to meet certain standards and get certain certifications. All pilots start out by first becoming a private pilot.
Besides cost (more on that later), here's an outline of what else is involved.
Age: In most countries, you have to be at least 18 years old to get a license to be a commercial pilot. If you're younger, you can be a private pilot. Some airlines may have greater age restrictions.
Education: Usually, you don't need a college degree to become a pilot for an airline, but many airlines and flight schools prefer applicants who have taken at least some college-level courses, especially in science or aviation-related subjects. So, it helps.
Medical certification: You must get a current medical certification from an aviation medical examiner in order to get a commercial pilot's license. This document basically says that you are at least as smart and as healthy as you need to be to fly an airplane. Can you become a pilot if you have ADHD? What about becoming a pilot if you're colorblind?
Flying hours: You must have a certain number of flight hours before you can get a commercial pilot's license. This usually involves a mix of solo and flight time with your CFI, as well as flying in different types of planes and in different weather conditions.
Knowledge and skills: If you want to be an airline pilot, you must have a lot of knowledge and skills about flying. This means knowing a lot about navigation, meteorology, and other technically challenging subjects including understanding how the flying tin can actually stays up in the air! It also means being able to communicate, lead, and solve problems well. You'll eventually be familiar with most of the terms in our detailed aviation glossary.
Certification: You must pass written, oral, and flight tests to get a commercial pilot's license. This is regulated by the FAA.
Remember that these are only general recommendations. The actual requirements of various airlines and countries may differ across the board.
It's important to find out exactly what you need to do to become an airline pilot and to make sure you have the most up-to-date information from the right authorities and organizations.
Duties And Responsibilities Of Airline Pilots
As an airline pilot, your duties will include flying and maneuvering commercial aircraft, carrying people and cargo, and making sure everyone on board is safe. Obvious, huh?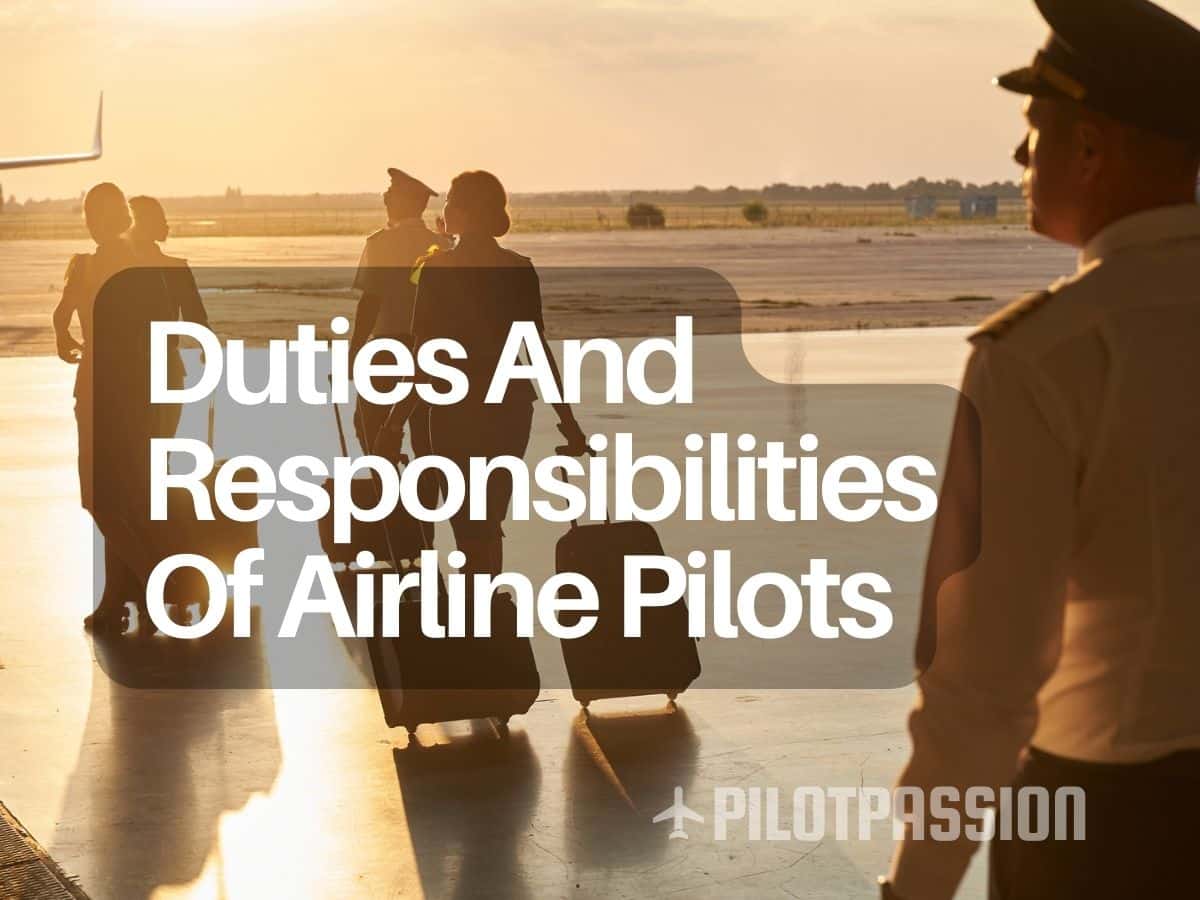 Among the various roles/tasks of an airline pilot are (drumroll please!):
Pre-flight preparation: You're in charge of getting the aircraft ready for takeoff prior to each trip. This includes checking the aircraft's interior and exterior, as well as its systems, and going over the flight plan.
Flying the plane: It's obvious, but, as a pilot, you are in charge of flying the plane during the flight in compliance with approved policies and guidelines.
During the flight, it's your job to talk to air traffic control and other workers as needed, such as to ask for permission to change altitude (flight level) or to report problems or emergencies. Hopefully you won't need to do that last part!
You'll be in charge of keeping an eye on the aircraft's systems and instruments throughout the flight to make sure everything is operating as it should.
Making decisions in emergencies: If the engine fails or something else goes wrong with the plane, you'll have to take safe, decisive action or else there might not be a good outcome.
Ensure the safety of passengers and crew: Your top priority as an airline pilot is safety. This means keeping the plane, passengers, and crew safe by following the established safety protocols.
Other Questions Relating to Wages & Salaries for Pilots
Why does a Pilot's Starting Wage Initially Look Low?
Pilots often start out with lower rates and eventually see their salary begin to rise as they gain more experience and build up their flying hours as airline pilots.
Why is this? Pilots may start out with a salary that seems low compared to their overall pay for a few reasons:
Type of job: A pilot's initial pay may vary depending on the type of employment. Pilots employed by the regional airlines may begin with a lower salary than those employed by major airlines.
Training: Pilots often spend a lot of money on training to get their pilot's license. These costs may need to be paid back before they can start making more money, which could lower their starting pay.
Supply and demand: Pilots' beginning salaries may be impacted by the demand for them. There is currently a global shortage of pilots and because of this, pilots may be able to negotiate higher starting salaries especially during periods of high demand.
Don't forget that pilot pay also varies a lot depending on the type of aircraft flown, size of the airline and the location where they're based.
Is a college degree needed to work as an airline pilot?
In most cases, a college degree is not an essential thing for a pilot to fly for an airline. But most airlines have minimum education requirements that pilots have to meet before they can be considered for a job. Most of the time, you need a high school diploma or the equivalent and a private pilot's license from the Federal Aviation Administration (FAA).
Sorry, but you'll need to be reasonably good at Math! You'll also need to be fluent in English (written, spoken and aural).
In addition to these basic qualifications, many airlines may prefer to hire pilots who have some kind of higher education, like a college degree or specialized aviation training. It really does vary between the different airlines.
I think a college education will be a real advantage to pilots as they begin their careers. It'll also help applicants to stand out among those who don't.
If you're at the start of your aviation career, you should ideally research this in advance because some airlines may help pay for pilots' college tuition or give them other educational benefits if they want to go to college.
How Is a Pilot's Salary Determined?
Airline pilots are actually paid per hour for real flight time. The US regulations say that airline pilots can only fly for a total of 1,000 hours per year. This is for safety and to guarantee that each time they enter the cockpit, they are well-rested.
Compare that with most other jobs, which typically works out at around 2,000 hours a year – double that of a commercial pilot.
Every year a pilot has worked for an airline, their hourly salary tends to go up. As discussed above, there are other factors that determine the rate such as aircraft type, the airline etc.
Experience matters. For example, a first officer working for Spirit Airlines can expect to start out on $38.50 per hour for flying an Airbus 319. After 5 years, this will be $88.19 at current rates. With the same airline, an airline captain for the same plane would start Year 1 on $99.62 per hour. Five years in and that same captain could command $133.68 per hour rising to $156.72 per hour after ten years.
Aircraft type also matters. For example, a first officer working for Delta Airlines will start out on $85.71 per hour for flying any plane. After 5 years, that rises to $159.24 per hour if the first officer is flying an Airbus 319. However, if that same first officer is flying the larger Boeing 747-400, the hourly rate for pay also after 5 years would be $205.71 per hour.
Sticking with Delta as an example, a captain starting out on a Boeing 747-400 would earn $303.10 per hour in Year 1 moving to $325.37 in Year 10. If that same captain was flying an Airbus 321, the hourly rate would be $244.49 in Year 1 rising to $262.41 in Year 10.
So, plane size and complexity matters!
Is Networking Useful When Hiring New Employees?
Yes, networking is definitely helpful for pilots. It's all about developing relationships with the right people within the aviation business.
By developing relationships, pilots can learn about job openings, gain insight into the recruiting process, and receive advice on how to increase their chances of being hired by decent airlines.
There are several ways for pilots to network and create connections in the aviation sector:
Join professional groups: Pilots can network joining organizations like the Experimental Aircraft Association (EAA) or the Air Line Pilots Association (ALPA).
Attend aviation events and conferences. Besides being great fun, by going to aviation events and conferences.
Connect with industry professionals on social media: Pilots can connect with industry professionals and find out about employment openings on LinkedIn and Twitter.
Pilots should keep in mind that networking is only one part of the hiring process and that working on improving their skills and credentials will boost their chances of landing a job.
Can I Work overtime And Make more Money Than My Base Pay?
In some cases, pilots may be able to earn more than their base pay through working overtime. Many pilots get paid by the hour, and if they work more than a certain number of hours in a pay period, they may be able to get extra money.
Pilots may be able to make extra money on top of their overtime pay through a variety of benefits and incentives, such as per diem pay for overnight stays, bonuses for flying specific routes or aircraft, and profit-sharing agreements.
Before taking a job offer, pilots should carefully read their employment contracts and understand how their pay and benefits work.
In What Ways Are International Pilot Pay Different From Those Of US Airlines?
The current global shortage of airline pilots obviously affects other countries outside the US. Many analysts expect this pilot shortage to get worse before it gets better. Currently, it's a pilots' market, in my opinion.
To recruit American pilots, many foreign airlines offer competitive pilot pay. Emirates Airlines offers generous salaries to airline pilots, including a housing allowance.
Most international airlines pay a similar rate to the US airlines. A lot of people choose to become a pilot in the US because of better availability of flight schools. The US also seems to be better priced than many international schools.
When Do Airline Pilots Need To Retire?
Airline pilots are required to retire at age 65 per Federal Aviation Administration (FAA) regulations.
After turning 65, however, pilots can still fly as a private pilot or in other non-commercial capacities if they wish.
The FAA has rules that pilots must follow to get their medical certification. Pilots must get regular medical exams to make sure they are healthy enough to fly.
Medical certifications must also be renewed every year for pilots under the age of 40 and every six months for those over the age of 40. If a pilot's medical certification has not been renewed, they're grounded until they get it sorted.
The FAA is the final word on pilot age requirements, not the specific airlines.
Is There A Minimum Daily Guarantee For Pilots?
Yes, but it depends on the airline. Pilots may be able to get a "minimum daily guarantee," which is the minimum salary that an airline agrees to pay for each day that a pilot is on duty.
Depending on how long the duty time is, the minimum daily guarantee may differ from the pilot's usual hourly rate of pay.
Pilots may benefit from a minimum daily guarantee since it's the peace of mind that they'll still earn something while on duty even if they don't get to fly. The reality is that pilots sometimes cannot fly because of bad weather or other unforeseen event.
The specifics will vary from airline to airline.
Are There Any Signing Bonuses For Pilots?
When a pilot is first employed by an airline, they might be given a signing bonus. It's a tactic often used by airlines as an incentitve to attract pilots to work for them.
These signing bonuses are paid on top of a pilot's base pay.
Whether or not a signing bonus is actually offered (and how much it is) all depends on the airline, aircraft type, level of experience. I'm sure you're seeing the theme here!
In a lot of cases, pilots who are just starting out in their careers end up using their signing bonuses to help offset the costs of getting their pilot's license in the first place.
Signing bonuses are often offered to more experienced pilots in order to entice them to switch to a competitor airline.
Not all airlines give signing bonuses. Like everything else, shop around and before taking a job, do the research to compare airlines and their signing bonus policies.
What actions can a pilot take to succeed in their career?
TLDR; Aim to become the airline's chief pilot!
A pilot can take the following actions to improve their chances of succeeding in their industry:
Get a lot of education and training. Pilots with a good education and highly specialized training will be more competitive on the job market and have a better chance of making more money.
Gain experience: Pilots with more experience tend to be in higher demand and may be able to negotiate better compensation. Pilots can gain experience by starting with smaller or regional airlines before moving up to larger, more established airlines.
Keep up Currency: Pilots should keep current and try to maintain their skills and qualifications as well as keeping up with industry trends and changes. It's an ever-changing field.
Networking: Pilots can find job openings and improve their careers by making connections with other people in the field.
Negotiate/Haggle: When a job offer comes in, pilots should be prepared to negotiate over compensation and benefits. For this, you'll need to know what the norms are in your industry and have a clear idea of what you bring to the airline.
Are There Pilot Unions?
Yes, many pilots are members of labor unions. These unions advocate for employees' rights and bargain with employers with things like compensation, benefits, and working conditions.
The Air Line Pilots Association (ALPA) and the International Brotherhood of Teamsters are two labor organizations that represent pilots in the United States (IBT).
Pilots can benefit from labor unions because they can get a collective voice in decisions that affect their careers. Some unions could provide their members with extra advantages like sharing opportunities for professional growth. They can also offer legal aid should any pilots need it.
Not all pilots belong to a union, and the choice to do so is very much a personal one. Before making a choice, pilots who want to join a union should look into the different piloting unions that represent pilots and think about the pros and cons of joining.
Pilot Wages For Various Commercial Pilot Positions
Here are some typical compensation ranges for pilots in several American industries:
Flight Instructor
Depending on their level of experience and the kind of training they offer, US flight instructors often earn between $20 and $50 per hour.
Cargo Carrier
It depends on the level of experience and how big the airline is but pilots who fly cargo planes usually get paid more than pilots who fly smaller planes. They can earn an annual income of $60,000 to $100,000 or more.
Charter Pilot
Charter pilots may expect to make between $30 and $50 per hour on average.
Corporate Pilot
Corporate pilots can make earn an income of $80,000 to $150,000 or more, which is often more than that of some commercial airline pilots.
Stunt Pilot
Stunt pilots tend to be paid an hourly rate of $50 to $100.
Pilot for a Tour Company
Hourly pay ranges from $30 to $50 for tour guide pilots, based on experience and plane type.
Crop Duster Pilot
Crop duster pilots often receive an hourly rate of about $20 to $40.
Ferry Pilot
Ferry pilots can usually make between $30 and $50 per hour on average.
Do Pay Trends Exist And Are Higher Salaries Anticipated for Pilots?
Yes, the pay trend for pilots is increasing.
The number of jobs for airline and commercial pilots is expected to grow by 6% between 2021 and 2031, which is about as fast as the national average for all jobs.
Over the next ten years, the industry expects to see 18,100 new jobs for commercial and airline pilots. These jobs will probably open because pilots who retire or leave the industry for other jobs need to be replaced.
As more people travel for business and pleasure, there will likely be more jobs for airline and commercial pilots. The ambulance service, where people need to be flown to hospitals, is expecting to see a higher requirement for pilots in the years to come.
Final Thoughts on Airline Pilot Salaries
So, as you see, the road to becoming an airline pilot can be bumpy, demanding, and pricey, but the destination is worth it. After all, you're aiming for the skies, literally!
The salary numbers are pretty impressive too. And remember, every seasoned captain started out as a rookie. Your dream is valid, and your flight path to success is ready for takeoff.