Cirrus Aircraft is a renowned manufacturer in the aviation industry, known for their innovative and high-performance aircraft. One of the key factors that determine the decision to buy a Cirrus aircraft is the cost.
The retail price for new Cirrus aircraft models varies from about US$449,900 for an SR20 to roughly US$2.75 million for a Vision Jet SF50. The range of Cirrus models offers a variety of price points, with the SR series, renowned for its high performance, at the lower end and the Vision Jet, recognized as the world's first single-engine Personal Jet, at the top end.
Types of Cirrus Aircraft Produced
Cirrus Aircraft is well-known for its high-performance, single-engine piston aircraft and its latest very light jet. With innovative designs and advanced safety features, Cirrus has gained a loyal following among pilots worldwide. Here's a quick overview:
Cirrus SR Series (including SR20, SR22, and SR22T variations): These are high-performance, single-engine, four-seat, composite aircraft.
Cirrus Vision Jet or SF50: This is a single-engine, seven-seat, very light jet aircraft.
The Cirrus SR20 is an excellent entry-level aircraft for pilots looking to own their first single-engine piston plane. With a range of about 920 miles and a fuel burn rate of roughly 11 gallons per hour at max cruising speed, the SR20 offers affordability and efficiency for general aviation enthusiasts. Read more about how much the Cirrus SR 20 costs.
Next, we have the Cirrus SR22, which is a more powerful and advanced version of the SR20. The SR22 is powered by a Continental IO-550-N engine, delivering 310 horsepower for increased performance.
The Cirrus SR22T is a turbocharged model based on the SR22, offering enhanced performance capabilities such as a higher cruising altitude and faster climbing rate. The SR22T is equipped with a turbocharged engine, making it a preferred choice for pilots seeking a high-performance aircraft for cross-country flights or flying in mountainous regions. Read more about the cost of Cirrus SR22T aircraft.
The Cirrus Vision Jet SF50, the first single-engine Personal Jet, has a range of about 1,200 miles and a fuel burn rate of approximately 60 gallons per hour at max cruising speed. It's powered by a Williams International FJ33-5A engine, providing 1,846 pounds of thrust. With a higher cruising altitude and a max speed of 345 mph (305 knots), the Vision Jet is suitable for cross-country flights or high-altitude operations.
The Cirrus Vision Jet G2, an upgraded version of the first single-engine Personal Jet, enhances performance with a higher flight ceiling of 31,000 feet and a boosted cruise speed. It continues to use the reliable Williams International FJ33-5A engine, delivering 1,846 pounds of thrust. With an increased range of up to 1,275 miles and maintaining a fuel burn rate of approximately 60 gallons per hour at max cruising speed, the Vision Jet G2 is ideal for extended cross-country flights or high-altitude operations.
All Cirrus aircraft models are equipped with advanced avionics, modern cockpit designs, and the innovative Cirrus Airframe Parachute System (CAPS) – a whole-airframe parachute designed to bring the aircraft and its occupants safely to the ground in case of emergencies.
Cost of Cirrus Aircraft Models
When it comes to purchasing a Cirrus aircraft, there are different factors to consider, including the base price, additional features, and ongoing costs. Here's a breakdown of the costs associated with each aircraft type, based on 2021 Cirrus Aircraft Pricing:
Cirrus SR20:

Base Price: $494,900
Premium Package (GTS SR20): $100,000
Air Conditioning: $29,900
Global Connect: $15,900
Other options, like ice protection and avionics upgrades, are also available at additional costs.

Cirrus SR22:

Base Price: $679,900
GTS SR22 Upgrade: $150,000
Ice Protection: $30,000
Air Conditioning: $29,900
Global Connect: $15,900

Cirrus Vision Jet:

Base Price: $2 million
G2 Vision Jet: $2.85 million
G2+ Vision Jet: $2.98 million
Beyond the initial purchase price and additional features, there are ongoing costs involved in aircraft ownership. These typically include:
Fixed Costs:

Insurance
Hangar or tie-down fees
Loan payments (If financed)
Annual maintenance

Variable Costs:

Fuel: For example, the Cirrus SR20 consumes roughly 11 gallons of fuel per hour, leading to an hourly fuel cost between $35 – $100+ depending on fuel prices.
Maintenance: Wear and tear, scheduled maintenance, and unexpected repairs
Pilot fees (If hiring a pilot)
Who Buys These Cirrus Airplanes?
Typical Customers
Cirrus aircraft, known for their advanced technology and safety features, attract a wide range of customers, including private pilots, business owners, and aviation enthusiasts. Private pilots appreciate the state-of-the-art avionics and performance capabilities of Cirrus aircraft, making them a desirable choice for cross-country trips and leisure flying.
Private pilots: Whether flying for leisure or personal travel, private pilots often choose Cirrus aircraft for their comfort and ease of use. The Cirrus SR20 and SR22 models are popular choices, known for their impressive speed and range.
Business use: Entrepreneurs and small business owners value the convenience and efficiency of Cirrus aircraft for business travels, enabling them to attend meetings or visit clients with ease.
Aviation enthusiasts: Cirrus aircraft are a popular choice among aviation enthusiasts, who appreciate the cutting-edge technology, sleek design, and high performance offered by these planes.
Notable Purchases
Cirrus aircraft have made their mark in the aviation industry with notable purchases by well-known individuals and organizations. Some examples include:
Angel Flight West: A non-profit organization, Angel Flight West purchased their 100th Cirrus SR22T in 2018 to support their mission of providing free air transportation to individuals in need of medical care.
Civil Air Patrol: The Civil Air Patrol (CAP) decided to add 17 new Cirrus aircraft to their fleet in 2021, expanding their capabilities for search and rescue, disaster relief, and aerial photography missions.
Quick side note: If soaring through the skies in absolute luxury is on your bucket list, check how much that dream of renting a private jet might set you back.
Comparison Between Cirrus and Other Manufacturers
When looking at the cost of Cirrus aircraft, it's essential to compare them to similar models from other manufacturers to provide a comprehensive and accurate perspective.
Cost Comparison
Cirrus is known for producing high-quality single-engine piston and jet aircraft. Popular models include the Cirrus SR20, SR22, and the Vision Jet. To understand how their prices compare to others, let's consider a few comparable aircraft from other manufacturers.
Cirrus SR22: The base price for a new Cirrus SR22 is around USD 629,900.
Cessna Skylane 182: The base price for a new Cessna Skylane 182 is around USD 530,000.
Piper Archer: The base price for a new Piper Archer is around USD 370,000.
As seen in the comparison, Cirrus aircraft tend to have a higher price compared to similar models from other manufacturers.
Factors Influencing Cost Differences
There are several factors that contribute to the cost differences between Cirrus aircraft and their competitors:
Speed: Cirrus aircraft are known for their impressive speeds. The SR22, for example, can reach top speeds of approximately 211 knots, while the Cessna Skylane 182 and Piper Archer have top speeds of around 145 and 128 knots, respectively.
Maintenance: Maintaining a Cirrus aircraft, especially the piston engine models, could be slightly more expensive due to the sophisticated technologies used in their construction. This may require specialized technicians and maintenance procedures, which could increase the associated costs.
Length: Cirrus aircraft are typically longer in length compared to competitors like the Cessna Skylane and Piper Archer. This may lead to a higher price due to the increased use of materials and engineering required.
Range: The range is another factor that sets Cirrus apart. Their aircraft tend to have a greater range compared to competitors, making them an attractive choice for pilots needing more distance capabilities. For example, the SR22 has a range of around 1,200 nautical miles, while the Cessna Skylane and Piper Archer have ranges of 930 and 880 nautical miles, respectively.
Condition: The state of the aircraft can drastically affect its price. Purchasing a used Cirrus aircraft in excellent condition will still generally cost more than a similar model from another manufacturer in comparable condition. However, buying a used aircraft offers considerable savings over purchasing new.
These factors can explain, to some extent, the price differences between Cirrus and other manufacturers. While Cirrus aircraft may be more expensive, their reputation for quality, performance, and innovation is also part of what drives their higher price tag.
Can Individuals Purchase These Aircrafts?
Process and Requirements for Individual Purchase
Purchasing a Cirrus aircraft, like the popular Cirrus SR22, is a possibility for individuals. The process of buying a Cirrus aircraft typically involves contacting a sales representative or browsing listings on websites like Controller.com to view aircrafts available for sale.
Before making a purchase, it's essential to understand the requirements involved with owning and operating an aircraft. This includes having a valid pilot's license and ensuring the plane is airworthy and meets FAA regulations. Additionally, prospective buyers should consider insurance and ongoing maintenance costs.
Feasibility of Individual Ownership
While owning a Cirrus aircraft might be enticing due to its advanced features and impressive performance, it's crucial to evaluate the feasibility of individual ownership within your financial situation. The cost of a Cirrus aircraft varies, but prices can range from $250,000 to $400,000 for a used model and up to $851,900 for a new, fully-equipped SR22 GTS model, as per Cirrus Aircraft's Pricelist.
To determine the affordability of purchasing a Cirrus, consider the following factors:
Ownership: Calculate upfront costs, including aircraft purchase price, taxes, and any required customization.
Budget: Factor in ongoing operating costs such as maintenance, storage, fuel, and insurance.
Financing Costs: Just like buying a house or a car, purchasing an aircraft may require a loan. Therefore, it's essential to account for interest payments and any potential fluctuations in market interest rates.
After considering the various costs associated with owning a Cirrus aircraft, individuals can decide if it's within their budget and feasible for their personal financial situation.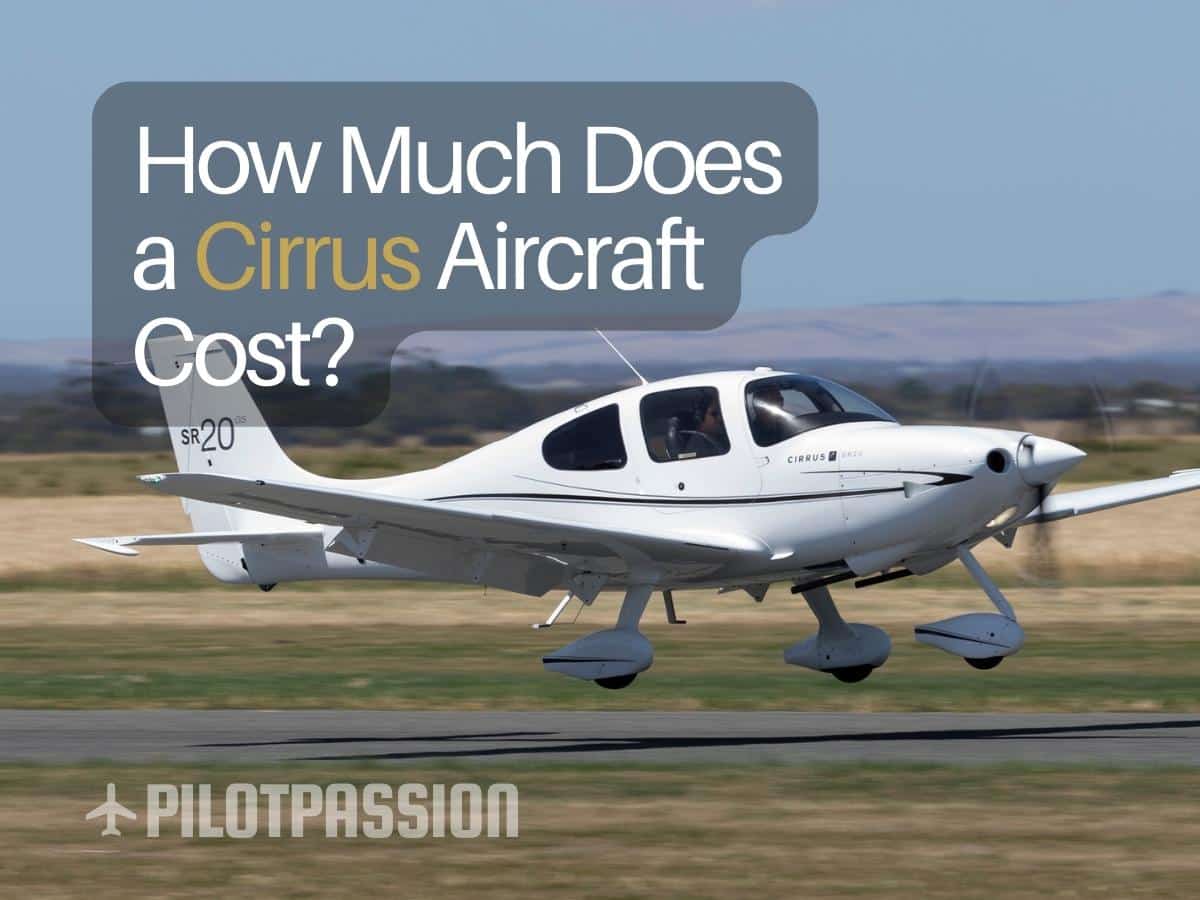 Operating Costs
Breakdown of Operating Costs
When it comes to owning and operating a Cirrus aircraft, there are several costs to consider. These include fuel, interest, payment, fuel cost, insurance, hangar, and maintenance costs.
Fuel: Fuel is one of the largest expenses for operating a Cirrus aircraft. The Cirrus Vision Jet SF50 has an estimated annual fixed cost of $179,657, with fuel being a significant portion of the variable costs.
Interest and Payments: Financing a Cirrus aircraft can result in significant interest costs over time. These costs will vary depending on the specific aircraft model and the terms of the financing agreement.
Insurance: Aircraft owners are required to maintain insurance coverage for their planes, and the cost will vary depending on factors like the age and model of the aircraft, as well as the owner's experience and location.
Hangar: Storing your Cirrus aircraft in a hangar is essential to protect it from weather and other potential risks. The cost of hangar storage will depend on factors such as location, size, and the services included.
Maintenance Costs: Regular maintenance and repairs are necessary to keep your Cirrus aircraft in top condition. The cost of routine maintenance and any potential repairs can add up over time.
Return on Investment for Buyers
When considering the purchase of a Cirrus aircraft, it's important to evaluate the potential return on investment (ROI). For some buyers, the decision to purchase a Cirrus aircraft may be primarily driven by personal preference and convenience, while others may view it as an investment that can generate a return through rental or charter services.
Determining the ROI for a Cirrus aircraft will depend on factors such as usage and demand in the rental or charter market, the costs of maintenance and operation, and potential appreciation or depreciation of the aircraft's value over time. It's essential for buyers to carefully assess these factors and make informed decisions based on their individual circumstances and financial goals.
Sometimes, it might just make sense to figure out how much does a charter plane cost to rent.
History of Cirrus Aircraft
Cirrus Aircraft, formerly Cirrus Design Corporation, was established in 1984 by brothers Alan and Dale Klapmeier. Starting with the VK-30 kit aircraft, the company has grown into a major player in the piston aircraft market. Their most prominent product, the SR22, is a versatile and powerful aircraft with a 310 horsepower Continental piston engine, a cruising speed of 183 KTAS, and a fuel burn rate of about 14 gallons per hour.
Known for their innovative designs and advanced technologies, Cirrus expanded its portfolio with the Vision Jet SF50, a single-engine jet with a max cruise speed of 358 mph and a fuel burn of 50 gallons per hour. This variety of offerings, along with a pricing range accommodating both private and business flights, has allowed Cirrus to cater to a broad spectrum of aviation needs.
Safety is a hallmark of Cirrus design, illustrated by their inclusion of the Cirrus Airframe Parachute System (CAPS) – an emergency ballistic parachute system – in all their aircraft models.
Over the years, Cirrus achieved several industry milestones, including introducing the first primary flight display for small certified aircraft in 1995. In 2008, the Vision Jet, one of the company's most anticipated aircraft, took its inaugural flight. Today, Cirrus is owned by a subsidiary of China's AVIC and continues to evolve and innovate, reinforcing its position in the global aviation industry.
Final Thoughts
Cirrus Aircraft offers a range of innovative and high-performance aircraft, each catering to different needs and budgets. It's not just the purchase price, but also the ongoing costs such as fuel, insurance, and maintenance that should be taken into account when investing in a Cirrus aircraft.
While some might buy a Cirrus for personal use, others could see it as a potential business investment. Whatever your reasons, ensure you've done your homework to understand what's involved. After all, owning an aircraft is a significant commitment, but with the right planning, it can also be an exciting and rewarding venture.