Dassault Falcon jets are known for their performance, luxury, and cutting-edge technology, making them a popular choice among private jet buyers. One of the most pressing questions for potential buyers is how much these aircraft cost. Depending on the model and production year, prices for a Dassault Falcon jet vary significantly.
A Dassault Falcon 900LX costs between $19 million for a 2010 model and $37 million for a 2022 model. The more recent Falcon 7X models range between $37 million and $47 million for 2018-2022 models.
Aside from the initial purchase price, other factors to consider when purchasing a Falcon jet include the operating and maintenance costs. For example, the estimated hourly variable rate for operating a Dassault Falcon 8X is around $3,200. By factoring in all associated costs and selecting the right model, buyers can make an informed decision when purchasing a Dassault Falcon jet.
Overview of Dassault Aviation
Dassault Aviation is a French aerospace company known for designing and manufacturing a range of aircraft, including business jets, fighter planes, and military aircraft. The Falcon line of business jets is one of their most successful offerings, providing state-of-the-art performance, luxury, and reliability for their customers.
Their aircraft have a reputation for safety and innovation, as Dassault spends significant time and resources to ensure that their planes meet the highest standards. With over 2,100 Falcon jets currently in service, they have secured a solid position in the world of business aviation.
In terms of business jets, one of Dassault's famous offerings is the Falcon 7X, which is a large-cabin jet with a range of 5,950 nautical miles. This aircraft was launched at the 2001 Paris Air Show, took its first flight in 2005, and entered service in 2007.
Another remarkable jet in their lineup is the Falcon 8X, produced since 2016. This large jet can seat 12-16 passengers and offers a range of 6,450 nautical miles. As of August 2021, 78 units of this aircraft were built, with prices ranging between $40 million for a 2016 model and $56 million for a 2022 model.
The Dassault Falcon 2000 is another popular business jet from the French aircraft manufacturer. Introduced in 1995 and still in production, this aircraft has seen 675 units built as of October 2022. Developed from the Falcon 900 trijet, the smaller twinjet has less range but maintains the quality and performance expected of a Falcon jet.
Dassault also continues to innovate with new models like the Falcon 10X, which has the largest cabin of any purpose-built business jet and a range of 7,500 nautical miles. This aircraft offers pioneering safety innovations and the ability to reach maximum operating speeds of Mach .925.
Types of Dassault Falcon Jet Aircraft
Dassault Falcon offers a range of private jets that vary in size, features, and capabilities. Some popular models include the Falcon 2000LXS, Falcon 7X, Falcon 6X, and Falcon 8X. Each of these aircraft is designed to cater to different needs and preferences of jet owners.
Falcon 50: The Falcon 50 is a super mid-sized, long-range corporate jet, with a range of 3,200 nautical miles. It was the first private jet with intercontinental range, thanks to its third engine. It was first introduced in 1976 and remained in production until 2008.
Falcon 6X: The Falcon 6X is Dassault's latest offering, with a range of 5,500 nautical miles. It is designed to offer the longest cabin in its class and can accommodate up to 16 passengers in a three-lounge configuration.
Falcon 7X: The Dassault Falcon 7X is a large-cabin business jet with a range of 5,950 nautical miles, making it the second-largest in the Falcon line. Launched in 2001, the Falcon 7X took its first flight in 2005 and entered service in 2007. With its impressive range and spacious cabin, the Falcon 7X is an excellent choice for transcontinental travel.
Falcon 8X: Developed from the Falcon 7X, the Dassault Falcon 8X offers an extended range of 6,450 nautical miles due to enhanced engine performance. This ultra-long-range jet provides even greater flexibility for international trips, accommodating a larger number of passenger routes without the need for refueling stops.
Falcon 900: Another member of the Falcon family is the Dassault Falcon 900, which is a business jet that has been in production since 1995. With over 675 units produced as of October 2022, the Falcon 2000 has proven to be a popular choice for business travelers. Developed from the Falcon 900 trijet, this smaller twinjet model boasts a slightly shorter range, but still offers plenty of amenities for a comfortable journey.
Falcon 2000: The Dassault Falcon 2000 is a twin-engine business jet, smaller than the Falcon 900, but still offering a spacious cabin and a range of 3,350 nautical miles. It was first introduced in 1995 and has since been a popular choice among business travelers.
Breakdown of Aircraft Costs
Owning a Dassault Falcon jet involves a variety of costs beyond the initial purchase price. Here's a brief breakdown of some typical Falcon jet ownership costs:
List price: A new Falcon private jet costs between $34m for a 2022 model Falcon 2000LXS and $56m for a 2022 model Falcon 8X.
Interest: If financing a Falcon jet, interest will be an important factor to consider, depending on the loan terms and down payment.
Crew: Falcon jets require crews of two pilots and possibly one or more flight attendants, depending on the size of the aircraft and number of passengers. Crew salaries will vary based on experience and certification levels.
Fuel cost: One of the major variable costs of operating a private jet is fuel. For example, the Falcon 6X has an estimated annual fuel cost of $848,000, while the Falcon 8X has an estimated annual fuel cost of $667,587.
Maintenance: Regular inspections and maintenance are essential to maintain aircraft safety and reliability. Costs will depend on aircraft usage, age, and the specific maintenance program chosen.
Engine overhaul: Over time, jet engines will require significant overhauls, which can be rather expensive. Falcon jets typically have two or three engines, depending on the model.
Insurance: Private jet owners must carry adequate insurance coverage to protect their assets, passengers, and crew. Premiums will depend on the type and age of the aircraft, as well as its usage patterns and other factors.
Hangar: Owning a Falcon jet also entails hangar costs for secure storage and protection from the elements. Hangar fees will vary depending on the location and size of the hangar needed to accommodate the specific Falcon model.
Crew training: Pilots and other crew members must go through periodic training and certifications to maintain their skills and qualifications.
Management and miscellaneous fixed/variable costs: These could include flight planning, catering, cleaning, and other operational expenses related to owning and operating a Falcon jet.
Who Buys Dassault Falcon jets?
Typical Customers
The typical customers for Dassault Falcon jets are high-net-worth individuals, large corporations, and government VIP transport operations. People who require long-range, private air travel often turn to Falcon jets, like the Falcon 8X, for their impressive performance capabilities and luxurious interiors.
Notable Purchases
Some notable purchases of Dassault Falcon jets include:
In 2018, the United States government purchased two Falcon 7X aircraft to upgrade their VIP transport fleet.
An undisclosed Australian businessperson purchased a Falcon 8X in 2017, emphasizing its ultra-long-range capabilities and use for both business and personal travel.
Nike co-founder, Phil Knight, owns a Falcon 8X, which he uses primarily for his frequent global travels.
Falcon jets continue to attract affluent individuals, successful corporations, and specialized government operations, offering unparalleled luxury and performance in private aviation.
Comparison with Other Manufacturers
Cost Comparison
When comparing the cost of a Dassault Falcon with other manufacturers, such as Gulfstream or Bombardier, it's important to take into account various factors. For instance, a new Dassault Falcon private jet costs between $34m for a 2022 model Falcon 2000LXS and $56m for a 2022 model Falcon 8X.
In contrast, Gulfstream jets, like the G450, often have similar price ranges, whereas the Bombardier's Challenger series can cost anywhere between $20 million and $30 million.
Here is a breakdown of some key price factors across these manufacturers:
| Manufacturer | Average New Jet Cost |
| --- | --- |
| Dassault Falcon | $34m – $56m |
| Gulfstream | $20m – $50m |
| Bombardier (Challenger) | $20m – $30m |
Factors Influencing Cost Differences
There are several factors that would influence the cost differences among these manufacturers. A few of those factors are:
Fuel burn: Falcons are generally known for their efficient fuel burn, although other manufacturers such as Gulfstream have made considerable improvements in recent models as well.
Thrust output: Dassault's jets tend to have similar thrust output as comparable planes from Gulfstream or Bombardier, which can make them desirable for buyers looking for powerful jets.
Charter price: Falcon jets usually have competitive charter prices when compared to other manufacturers, making them attractive to aircraft operators.
Fuel use and Private jet fuel costs: Although fuel costs for private jets may differ depending on the specific model, Falcons are known for their efficient fuel usage.
Crew salary and Miscellaneous fixed costs: While crew salaries can vary among manufacturers, Falcons are competitively priced in this area, as well. Fixed costs, including operating and maintenance expenses, can also differ among manufacturers but are usually similar across comparable models.
Insurance (Liability and Hull): Insurance rates can vary depending on the aircraft's type and age, but Falcons tend to attract similar liability and hull insurance rates as other manufacturers.
Maximum baggage capacity: Falcons, like the Falcon 900, typically have excellent baggage capacity when compared to competing jets.
Can Individuals Purchase These Aircrafts?
Process and Requirements for Individual Purchase
Yes, individuals can purchase Dassault Falcon jets. When considering the purchase, it's important to understand the costs and requirements associated with owning such an aircraft.
A new Dassault Falcon private jet, for instance, can cost between $34 million for a 2022 model Falcon 2000LXS and $56 million for a 2022 model Falcon 8X. However, used Falcon business jets can be acquired at lower prices depending on their age and condition.
When purchasing a Falcon jet, the prospective buyer must:
Comply with all aviation regulations and licensing requirements
Secure necessary financing and insurance
Establish a maintenance and operational routine for the aircraft
Some key factors to consider during the buying process are:
Engines: Falcon jets often use Honeywell TFE731-60 engines, known for their reliability and efficiency.
Performance: Dassault Falcons fall into the large jet category, offering spacious cabins, impressive range, and advanced avionics.
Operating Costs: Owning and operating a large jet like the Falcon 7X can cost around $1.5 million to $2.3 million per year, depending on the number of annual flight hours.
Feasibility of Individual Ownership
Individual ownership of a Dassault Falcon jet is feasible but depends heavily on the buyer's financial capabilities and intended usage. Since large jets usually require a sizeable initial investment, ongoing maintenance, and upkeep costs, it is essential to evaluate if owning this type of aircraft makes financial sense.
However, for those who can afford to purchase and maintain a Dassault Falcon, the benefits can outweigh the costs, as these jets provide:
Long Range: Falcon jets like the 7X offer ultra-long-range capabilities, up to 5,870 nautical miles.
Advanced Technology: Dassault is known for incorporating cutting-edge avionics and fighter-jet technologies into their private jets, enhancing performance and safety.
Comfort and Luxury: Falcon jets feature spacious interiors, offering exceptional comfort and personalized amenities for passengers.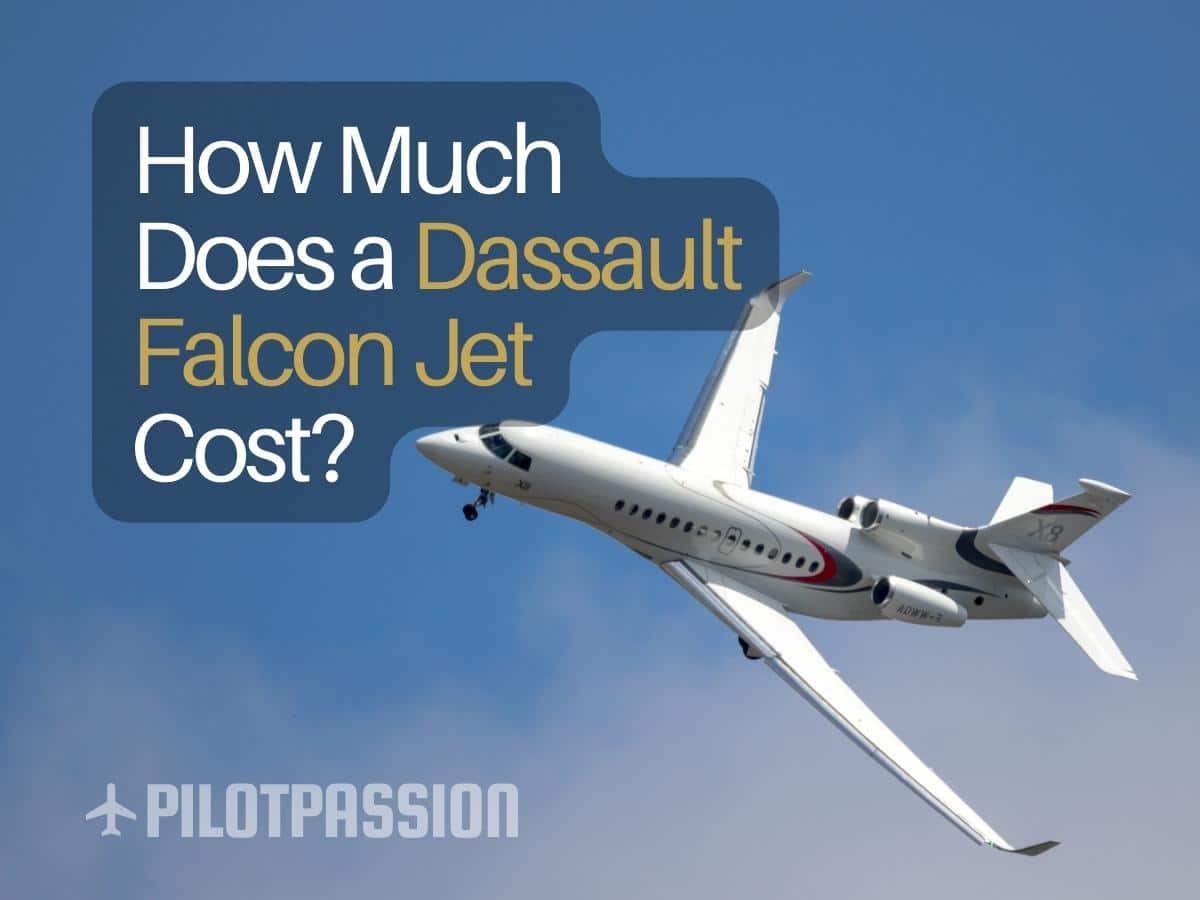 Operating Costs
Breakdown of Operating Costs
When it comes to operating a Dassault Falcon jet, several factors contribute to the overall cost. Let's break down these costs to give you a clear understanding of what to expect when owning and operating this luxurious private aircraft.
Fuel Consumption: The Falcon 6X has an average hourly fuel burn of 419 gallons per hour. This cost will vary depending on factors such as the route and altitude.
Direct Operating Costs (DOC): Direct operating costs include fuel, maintenance, and crew expenses. These costs can vary greatly depending on factors like flight hours and aircraft age. The total annual budget for flying a Falcon 7X private jet 200 hours per year is approximately $1,434,621 while flying 400 hours per year increases the budget to around $2,214,097.
Misc Crew/Landing/Handling: Various fees are associated with personnel, landing, and handling charges. These fees can differ based on airport regulations, location, and services needed during the aircraft's operation.
Jet Management: Aircraft owners often work with management companies to handle the administrative and operational tasks of owning a plane. These services, while helpful, can add additional costs to owning and operating the jet.
History of Dassault Aviation
Founding and Key Milestones
Dassault Aviation, the company behind the Dassault Falcon jets, has a rich history. It was founded by Marcel Dassault in 1929, initially specializing in propeller design. Over the years, the company expanded its scope to include combat aircraft, such as the Mirage and Rafale, before entering the business jet market with the Falcon series.
The first Falcon jet, the Falcon 20, took off on its inaugural flight on 4 May 1963, marking a significant milestone for the company. This was followed by several iterations, including the Falcon 900, which rolled out in 1984.
The Dassault Falcon 7X saw its debut flight on 5 May 2005, a testament to the company's commitment to innovation in the aviation industry. The Falcon 8X, which is derived from the 7X, expanded the range to 6,450 nautical miles, making it one of the farthest-reaching business jets in the market.
Final Thoughts
So, there you have it, folks! Dassault Falcon Jets: for those who don't mind dropping a few dozen mil on the high life. If you've got the dough to ride in luxury, these French beauties are the way to go.
Remember though, owning a Falcon is not just buying a jet, it's embracing an elite lifestyle with a price tag to match. Fly high, land soft, and keep that checkbook handy!