In the buzzing world of private aviation, the dream of owning a sleek Embraer jet is well within reach for some.
These advanced, luxurious aircraft, renowned for their design and technology, come with a price tag to match their impressive reputation. But, exactly how much should you be ready to fork out if you're looking to join the Embraer jet club? Well, let's dive in, using some current market data as our guide.
A range of Embraer jets are available with prices varying dramatically based on factors like model, year, total time (TT) in the air, and additional features. At the lower end, you're looking at a 2009 Phenom 100 listed at $2,695,000, while the price for a 2014 Phenom 300 stands at $8,695,000. A more high-end choice like the 2016 Legacy 450 hits the wallet harder at $15,995,000.
Overview of Embraer as an Aircraft Manufacturer
Embraer is a well-known Brazilian multinational aerospace manufacturer that designs and produces aircraft for various sectors, including commercial, military, executive, and agricultural markets. Founded in 1969 in São José dos Campos, São Paulo, Embraer has grown to become the third-largest producer of civil aircraft, following Boeing and Airbus.
One of the popular aircraft models produced by Embraer is the Embraer 175, a medium-range, twin-engine jet airliner. This efficient and versatile aircraft is specifically designed for regional routes and can carry up to 78 passengers with a maximum range of 2,485 miles. It is widely used by major airlines around the world, including American Airlines, United Airlines, and Delta Air Lines.
Apart from the Embraer 175, the Brazilian company also manufactures other aircraft models, such as the executive Praetor 600 Business Jet, which has become the best performing super-midsize jet in the world. In addition, Embraer offers a range of services and maintenance support for their aircraft to guarantee optimal performance and safety.
In terms of sales, Embraer has been recovering from a challenging period and is now expecting to sell up to 180 planes in 2022. This figure includes 60-70 commercial jet deliveries and 100-110 executive jet deliveries.
Types of Embraer Aircraft
Embraer offers a range of aircraft in both the commercial and executive jet sectors. Let's take a look at some of their popular models and their key features.
The Emb Phenom 100 is a cutting-edge entry-level jet designed for both business and leisure flights. Featuring seating for up to six passengers, the Phenom 100 is known for its sleek design and impressive performance. Its range of 1,355 miles and cruise speed of 449 mph make it perfect for short to medium-haul trips.
One step up is the Emb Phenom 3. Similar in design to the Phenom 100, it accommodates up to 11 passengers and boasts an extended range of 2,267 miles. Its enhanced performance and added capacity make it a popular choice for both business and private use.
For those seeking more space and luxury, the Emb Legacy 600 is an ideal choice. Oating a large, comfortable cabin that can accommodate up to 14 passengers, this aircraft features advanced technology and impressive range, covering up to 3,900 miles at a cruise speed of 528 mph.
The Emb Legacy 450 is another option in the mid-size business jet category. With seating for up to 9 passengers and a range of approximately 3,000 miles, this versatile aircraft is well suited for both business and personal travel.
In the commercial sector, the Emb 190 is a member of the company's E-Jet family. With a capacity for 70 to 150 passengers, this medium-range aircraft is widely used by airlines worldwide. It was first introduced in 2000 and has since become a staple in regional air travel.
Expanding their executive jet offerings, Embraer introduced the Praetor 500, which is capable of accommodating up to nine passengers in a luxurious cabin. With a range of almost 4,000 miles and advanced avionics, this aircraft is designed for maximum comfort and convenience.
Embraer also has a presence in the turboprop market, offering aircraft that are suited for regional flights and smaller airports. These aircraft combine efficient fuel consumption with advanced technology, making them popular choices for short-haul travel.
The E-Jet family, which encompasses the previously mentioned Emb 190, has various members including E170, E175, and E195. These aircraft are known for their efficiency and flexibility, making them a popular choice among airlines for regional and short-haul routes.
Operating Costs of Embraer Aircraft
Operating costs for Embraer aircraft depend on various factors such as fuel prices, maintenance, and crew expenses. Generally, they are considered cost-effective alternatives compared to larger aircraft due to their optimized designs that focus on regional airline operations.
The running costs or operational expenses of an Embraer plane vary widely based on the specific model and the amount of usage the aircraft sees. On average, owners can expect to pay between $1,000 to $3,000 per flight hour. These costs encompass fuel, crew salaries, routine maintenance and repairs, insurance, hangar fees, and other miscellaneous costs.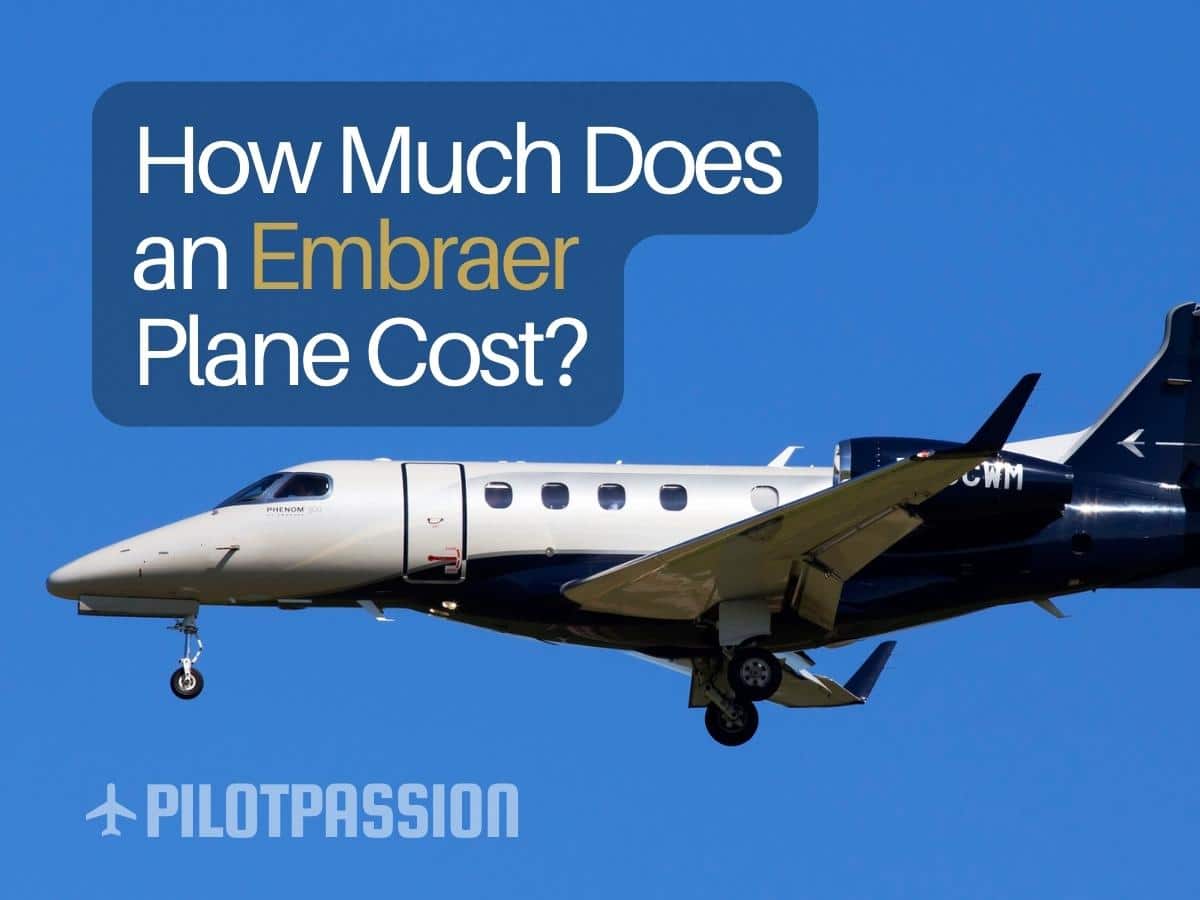 More About Embraer
Founding and Key Milestones
Embraer was founded on August 19, 1969, as a government-owned corporation in São José dos Campos, São Paulo, Brazil. The goal behind its creation was to develop a strong and viable domestic aircraft industry. Since then, Embraer has grown to become the third-largest producer of civil aircraft, after Boeing and Airbus.
Current Status in the Aviation Industry
Today, Embraer plays a significant role in the aviation industry, with its aircraft occupying a niche space for regional airline operations. Its jets are known for their efficiency, where they do not require the higher capacity and cost associated with Boeing and Airbus alternatives. As of now, 1,566 Embraer aircraft have been delivered to airlines worldwide.
Who Buys These Planes?
Embraer's aircraft are popular among major airlines as well as regional carriers. Key customers include American Airlines, United Airlines, Delta Air Lines, and Air Canada 7. These airlines often use Embraer aircraft for domestic and continental routes where there is a need for efficient, cost-effective, and medium-capacity planes.
Comparison with Other Manufacturers
When compared to larger manufacturers like Boeing and Airbus, Embraer stands out for its focus on regional jet market and efficiency in their designs. Instead of competing directly with these giants, Embraer addresses the needs of carriers who operate on smaller, non-stop routes where high-capacity, long-range jets are not needed.
Can Individuals Purchase These Aircrafts?
Typically, Embraer aircraft are designed for commercial aviation and are primarily bought by major airlines worldwide. However, they also produce executive and agricultural aircraft, which may be more suitable for individual buyers seeking a private jet or specialized plane.