What is the best throttle for MSFS 2020? A throttle quadrant is an essential piece of hardware for any serious flight simulator enthusiast, as it adds realism and enhances the overall experience of playing Microsoft Flight Simulator 2020 (MSFS 2020).
Throttle quadrants are designed to replicate the controls found in real-life aircraft, allowing gamers to manage engine power, propeller pitch, and mixture with precision and ease.
In a hurry? This is the throttle quadrant that I own personally and I love it. It's rock solid.
Best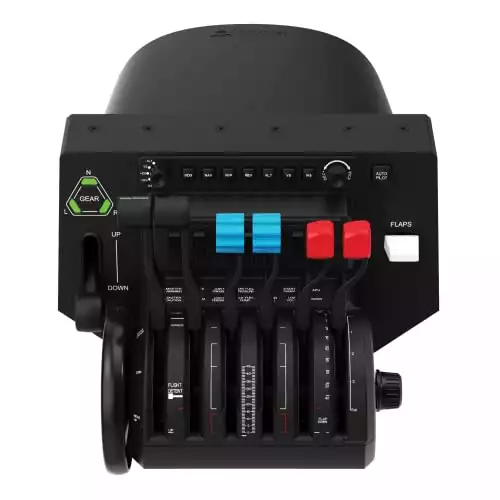 BRAVO THROTTLE QUADRANT
All in One Cockpit Throttle System for Home Flight Simulation The Honeycomb Bravo Throttle Quadrant is an all-in-one cockpit system featuring a configurable throttle setup, from single-engine general aviation to four-engine commercial aircraft.
Check Price
We spent a considerable amount of time researching and testing various throttle quadrants for MSFS 2020 so that you can make an informed decision and elevate your flight simulation game to new heights.
The Best Throttle Quadrants for MSFS 2020: A Guide
We've researched and compiled a list of the top throttle quadrants for Microsoft Flight Simulator 2020 to enhance your flying experience. Check out our recommendations below!
The Honeycomb Bravo Throttle Quadrant takes your flight sim experience to the next level with its versatility and realism.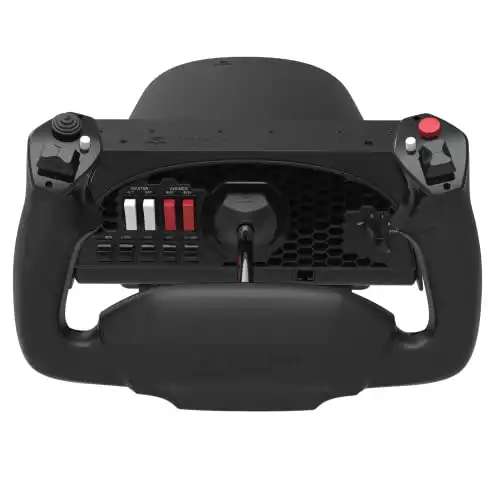 Pros
Configurable throttle setup for various aircraft types
Multiple cockpit components for a realistic experience
7 programmable keys for customization
Cons
Steeper learning curve in setting up
May be overwhelming for flight sim beginners
Expensive compared to basic flight sim throttles
In our experience using the Honeycomb Flight Simulator Bravo Throttle Quadrant, we found it to be an exceptional addition to our flight sim setup. The customizable throttle system allowed us to simulate a variety of aircraft, from single-engine general aviation planes to multi-engine commercial planes effortlessly.
Additionally, the multiple cockpit components such as the autopilot, annunciator panel, and landing gear lever provided a realistic and immersive experience. We appreciated the seven programmable keys, which allowed us to personalize our cockpit controls and overall experience.
However, we did find that the learning curve for setting up the throttle quadrant was steeper compared to basic throttles. For beginners or those who are not very familiar with flight simulators, this increased complexity may prove to be a bit overwhelming. While the cost is higher compared to basic flight sim throttle quadrants, the level of versatility and realism provided by the Honeycomb Bravo Throttle Quadrant make it a worthwhile investment for those who are serious about their flight sim experience.
In conclusion, if you are looking to enhance your flight sim experience with realistic controls and versatile customization options, the Honeycomb Flight Simulator Bravo Throttle Quadrant is a fantastic addition to your setup. Just be prepared for a steeper learning curve and a higher price point than basic throttle quadrants.
The Logitech G Saitek PRO Flight Throttle Quadrant is a must-have for flight simulation enthusiasts looking for versatile and customizable controls.
Pros
Multiple axis levers for enhanced control
Three two-way rocker switches for additional control options
Flexible mounting options for a tailored setup
Cons
Some users report inconsistent lever tension
Slightly noisy operation
Plastic construction may feel less durable
We recently tried out the Logitech G Saitek PRO Flight Throttle Quadrant and were impressed by the level of customization it offers. The three axis levers provide a variety of options for controlling your favorite flight simulations, while the three two-way rocker switches expand setup possibilities even further.
Mounting the quadrant is easy, as it can be attached either on top or in front of your desk, and it's compatible with Windows 7, 8, 8.1, and 10. The additional quadrant lever heads allow you to create a personalized configuration of throttle, flaps, mixture, and prop pitch, which we genuinely appreciate.
While the quadrant provides excellent functionality, it does have a few drawbacks worth noting. Some users have mentioned that the lever tension is inconsistent, and there's a slight noise during operation. Additionally, the plastic construction may not feel as sturdy as other similar products. However, given its affordable price and overall performance, the Logitech G Saitek PRO Flight Throttle Quadrant is a worthy addition to any flight simulation setup.
We highly recommend the Thrustmaster TCA Quadrant Airbus Edition for a more immersive and realistic experience with MSFS 2020.
Pros
Authentic Airbus throttle design and thrust reverser function
Adjustable resistance and customizable thrust levers
Upgradable with upcoming Thrustmaster TCA ecosystem add-ons
Cons
Some users report difficulty in initial setup with software
May not fully function with all aircraft in MSFS 2020
Response from Thrustmaster regarding complaints is reportedly slow
We just tried the Thrustmaster TCA Quadrant Airbus Edition, and we're impressed with its realism and design. Inspired by the world of civil aviation, this throttle quadrant offers a genuine feeling when piloting commercial airliners and civil aircraft. The thrust reverser function and adjustable tensioning screw genuinely enhance the overall experience.
The quadrant is quite upgradable as it includes connectors for upcoming add-ons in the Thrustmaster TCA ecosystem. Furthermore, it supports linking two throttle quadrants together, which doubles the number of thrust levers. However, keep in mind that some users have reported initial setup difficulties with the software, which might require extra time and patience.
Unfortunately, the quadrant may not fully function with every aircraft in MSFS 2020, and users have reported slow-to-nonexistent responses from Thrustmaster's customer service. Despite these issues, we still find the Thrustmaster TCA Quadrant Airbus Edition to provide a highly immersive and enjoyable experience for any MSFS 2020 enthusiast.
Experience unparalleled flight immersion with the Turtle Beach VelocityOne System, suitable for both beginners and experienced pilots.
Pros
Universal design with throttle quadrant, trim wheel, and yoke
True-to-life 180° yoke handle rotation for precise control
Customizable, modular throttle quadrant
Cons
Limited compatibility with Xbox games
Potential firmware issues with rudder pedals
Not the most affordable option
After trying out the Turtle Beach VelocityOne Flight Universal Control System ourselves, we can confidently say it significantly enhances the flight simulation experience. It was easy to set up for both Xbox Series X|S and Windows 10 & 11 PCs, providing seamless compatibility regardless of your preferred platform. The system's all-in-one design ensures you have everything needed for an immersive flight, including a realistic yoke with integrated rudder controls, a modular throttle quadrant, and a trim wheel.
The yoke handle, with its 180-degree rotation and smooth, long-lasting control, felt incredibly realistic when we test flew various aircraft. Furthermore, the modular throttle quadrant offered customization options and buttons to match our preferred flying experiences for both light and heavy aircraft. This feature helped improve the level of authenticity in our simulated flights.
While we thoroughly enjoyed the VelocityOne's immersive controls, we did notice that it had limited compatibility with Xbox games outside of Microsoft Flight Simulator. Additionally, some users reported firmware issues with rudder pedals, although we didn't experience this ourselves. It's worth mentioning the price point; it may not be the most affordable option for everyone, but considering the quality, features, and versatility, we believe it's well worth the investment.
Overall, the Turtle Beach VelocityOne Flight Universal Control System offers an immersive, authentic, and versatile flight experience. If you're on the hunt for a throttle quadrant system that works seamlessly with your Xbox Series X|S, Xbox One, or Windows 10 & 11 PCs, we recommend giving this product a try.
Buying Guide
Before diving into purchasing a throttle quadrant for MSFS 2020, it's important to consider the features that will best enhance your flying experience. In this guide, we will provide you with essential factors to think about when selecting the right throttle quadrant.
Flight simulator enthusiasts will benefit from knowing what to look for when selecting a quadrant. Key points you should know:
1. Compatibility with your system and flight simulator: Ensure the throttle quadrant works with your computer's operating system and the specific flight simulator you intend to use.

2. Number of axes: Consider the number of axes provided by the throttle quadrant, which will determine the range of controls available for different aircraft types.

3. Adjustable lever tension: Look for throttle quadrants with adjustable lever tension to provide a more realistic feel and customized experience.

4. Autopilot controls: Throttle quadrants with a full set of autopilot controls can add to the authenticity and ease of use during flight simulation.

5. Programmable functions and buttons: More programmable functions and buttons allow for greater customization and versatility in your flight simulation experience.

6. Modular design: A modular design enables you to configure the controls as needed for different aircraft or even combine multiple throttle quadrants for additional functionality.

7. Officially licensed replicas: Throttle quadrants that are officially licensed replicas of actual aircraft controls (e.g., Boeing or Airbus) can enhance immersion and authenticity.

8. Compatibility with other peripherals: Ensure the throttle quadrant can integrate seamlessly with other peripherals, such as rudders or pedals.

9. Build quality and durability: Look for a sturdy, well-built throttle quadrant that can withstand long hours of use and remain securely attached to your desk or other surface.

10. Price and value for money: Consider your budget and whether the throttle quadrant offers the features and quality you need at a reasonable price.
Compatibility
First and foremost, ensure that the throttle quadrant you choose is compatible with MSFS 2020 as well as your computer or gaming system. When looking at options, verify that the device can easily connect to your setup and that it's approved for use with the flight simulator.
Build Quality
We recommend looking for a throttle quadrant with robust build quality. This includes sturdy construction materials that can withstand regular gameplay and provide a realistic flying experience. You'll want to feel confident that it can endure the wear and tear that comes with frequent use.
Customization
A throttle quadrant that offers customizable features is a valuable asset for sim enthusiasts. Look for options that have interchangeable components and the ability to adjust sensitivity levels. This flexibility will enhance your flying experience by suiting your preferences and play style.
Axes
When selecting a throttle quadrant, be attentive to the number of axes it has. An ideal product should have at least two axes for throttle control, propeller pitch, and mixture controls. Some even offer additional axes for tailoring the experience even further, which may be desirable for those seeking a high level of detail in their flight simulation experience.
FAQs
What is a throttle quadrant, and what does it do?
A throttle quadrant has a circular shape and contains the thrust levers. Flight simulators use replica versions to provide an experience as close to actual flight as possible.
Why is a Throttle Quadrant Better Than the Controller?
Many MSFS users are already well-versed in using a controller for their gameplay experience. Original Xbox and third-party controllers will handle most basic aircraft operations. However, throttle quadrants will help give you a better overall experience. These types of controllers provide better overall control than game controllers and create a better experience.
Which throttle quadrant controller is best for Microsoft Flight Simulator 2020?
In my opinion, the Honeycomb Bravo Throttle Quadrant is the best all round throttle quadrant controller for MSFS 2020 because of its solid feel and excellent precision. I own it and love it.
Final Thoughts
The best throttle for MSFS 2020 replicates a real-life throttle quadrant as much as possible. Having as authentic an experience as possible matters for pilots who are training, as well as casual users.
We hope this guide has provided you with a clear understanding of the vital factors to consider when looking for the perfect throttle quadrant for MSFS 2020. Now that you know what to look for, happy flying!