As an Amazon Associate I earn from qualifying purchases.

The Bose A20 pilot headset has been a popular choice among aviation enthusiasts for years, thanks to its impressive blend of comfort, functionality, and noise-canceling capabilities.
As pilots often have to spend hours wearing these headsets, finding one that strikes the perfect balance between performance and wearability is crucial.
Best Seller #1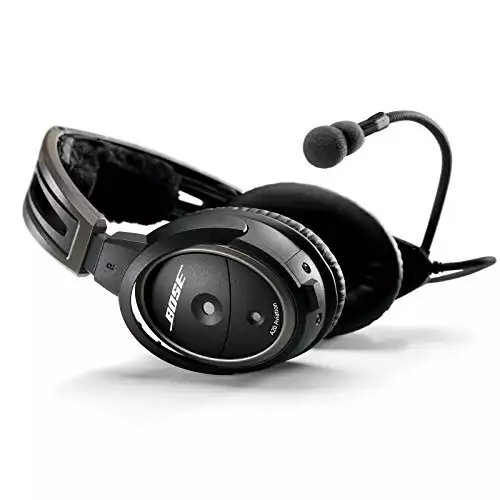 The A20 has consistently received praise for its low-profile and lightweight design, weighing in at a mere 12 ounces, which allows for comfortable, extended use in the cockpit without causing any strain or annoyance source.
Does the A20 headset live up to the hype? We're about to tell you!
At PilotPassion, our aim is to provide you with the most interesting and relevant aviation content. As aviation enthusiasts and student private pilots, we strive to put ourselves in your shoes when creating this information. This review is part of my overall review on the best aviation headsets for pilots.

Update: There's a newer model of the Bose A20 out and it's called the A30. I'm keeping this review live here because you can still buy the A20 headset (and it's still very good). Check out my review of the Bose A30 here.
Personal Perspective on the Bose A20 Pilot Headset
I personally own a set and one of the standout features of the Bose A20 headset is its exceptional noise-canceling capabilities.
Bottom line: There's a significant reduction in ambient noise, making communication with air traffic control and fellow pilots much easier, ultimately leading to enhanced situational awareness and safer operations.
Before we get into it, the Bose A20 isn't the only high-quality aviation headset on the market—comparable alternatives exist, each with their own set of unique features and benefits. Some options include the Lightspeed Zulu 3 and David Clark ONE-X headsets. The Lightspeed Zulu 3 is known for its plush, comfortable design, and advanced noise-cancelling technology, while the David Clark ONE-X is lightweight and recognized for its durability.
What sets the A20 apart from its competitors is its commitment to comfort and cutting-edge technology in noise reduction.
Like with anything else, whether the Bose A20 is the right choice for a pilot comes down to individual needs and preferences.
From a comfort standpoint, the Bose A20 is designed with about 30% less clamping force and weighs only 370g, making it ideal for pilots during long flights.
Another standout features of the Bose A20 is its Bluetooth functionality. It enables seamless connection to a smartphone for making calls or listening to music, with the music playback only audible to the connected user. The Bluetooth feature doesn't interfere with ATC communications.
A few key improvements from previous models include:
Superior noise-cancelling technology
Compact and comfortable design
Enhanced Bluetooth capabilities
As you'll see from my review below, the Bose A20 pilot headset is an investment that many pilots consider worthwhile for enhancing their overall flying experience.
Features and Specifications
Comfort and Design
The Bose A20 Aviation Headset is known for its comfort and low-profile design. Weighing in at a mere 12 ounces, this lightweight headset is easy on the head during long flights. The sheepskin cushions provide added comfort, while the clamping pressure ensures a secure fit without causing annoyance.
In my real-world experience, I am full of praise for the Bose A20 for its comfortable fit, even during prolonged flights. The hinge design contributes to the proper contouring of the headset around my head, preventing pressure points and discomfort.
Noise Reduction and Sound Quality
When it comes to noise reduction, the Bose A20 excels with both passive and active noise cancellation technologies. These features ensure that engine noise and other ambient sounds are significantly reduced, protecting pilots from potential hearing loss. The active equalization enhances audio clarity.
Engine noise is considerably lowered, allowing pilots to focus on critical communication channels and reducing fatigue during the flight.
Connectivity and Compatibility
The Bose A20 features seamless connectivity options, including Bluetooth and auxiliary audio input. The Bluetooth feature enables pilots to connect wirelessly with their devices, allowing for convenient hands-free communication or listening to music during flights.
The headset is also compatible with an array of aircraft communication systems, making it a versatile choice for pilots flying a variety of aircraft.
The Bose A20 Aviation Headset is certified to FAA TSO and E/TSO-C139 standards, ensuring that it meets the high-quality and performance requirements set by regulatory authorities. This certification highlights the performance, durability, and compatibility of the A20 amongst various aviation systems.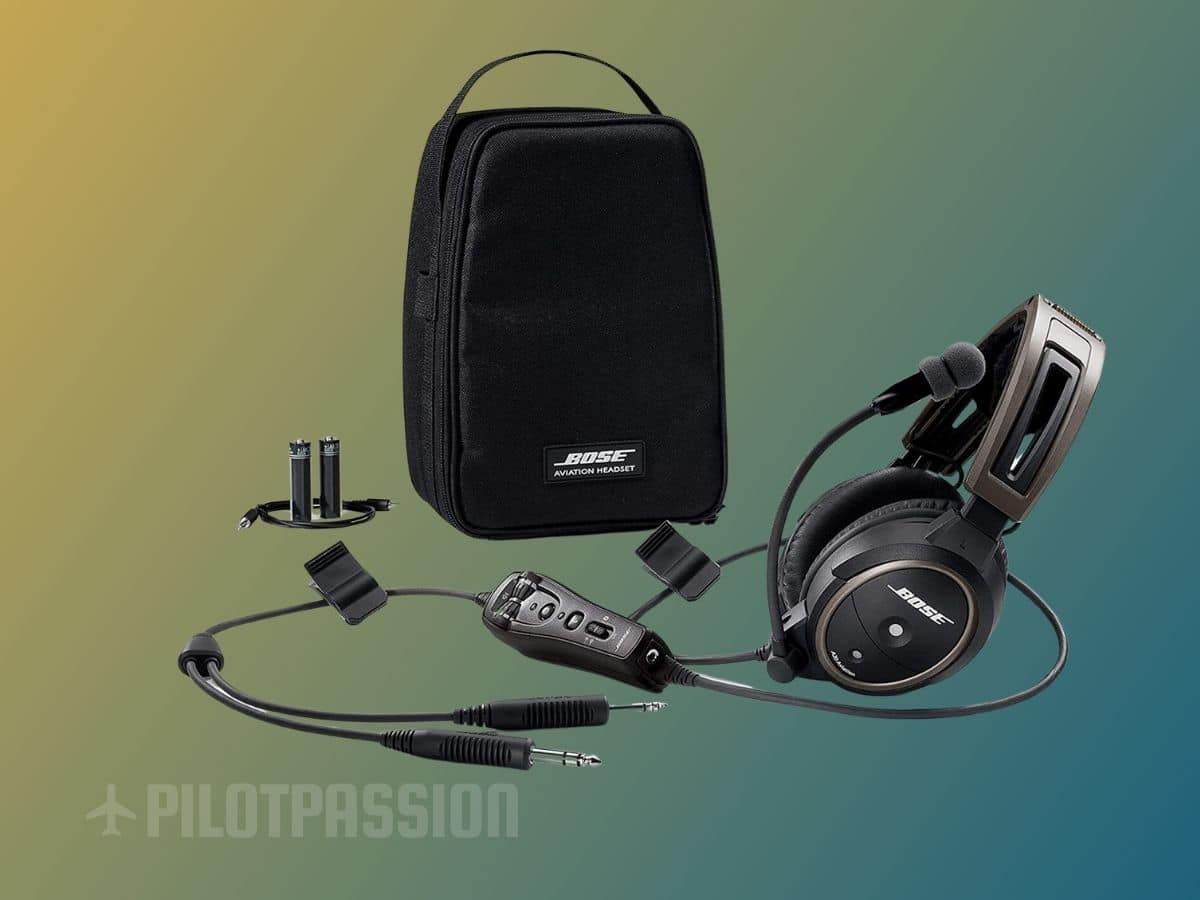 Ease of Use and Functionality
Intuitive Controls
The Bose A20 aviation headset is designed with user-friendly controls to ensure a seamless experience for pilots.
The control module features clearly labeled buttons and dials that allow for easy adjustment of volume, connection to auxiliary devices, and Bluetooth operation.
The microphone can be smoothly positioned, enabling pilots to clearly communicate with air traffic control and other crew members.
Battery Life and Power Options
One of the strong points of the Bose A20 headset is its impressive battery life. The headset operates on two AA batteries, which provide up to 45 hours of use without noise-cancellation enabled.
With noise cancellation activated, the battery life is slightly reduced but still provides an average of 20-30 hours depending on usage. This long-lasting battery life ensures pilots can undertake long flights without worrying about power interruptions.
How can you tell the status of battery life remaining? The control module also features a battery life indicator, which conveniently keeps the user informed about the remaining battery life.
You're also given the option to connect directly to the aircraft power source using an adapter.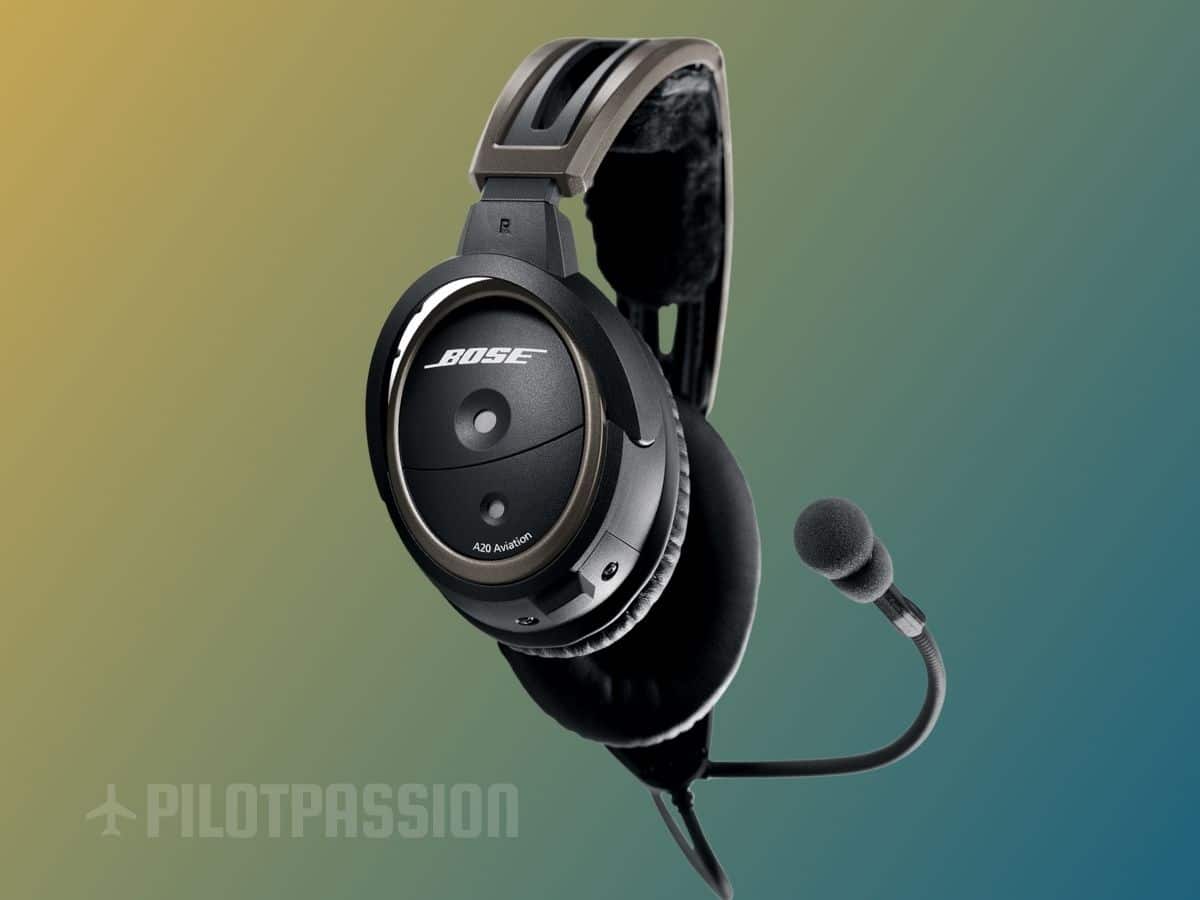 Key Design Choices and Performance Evaluation
The Bose A20 aviation headset distinguishes itself from competitors with its emphasis on comfort and noise-canceling technology.
The headset incorporates sheepskin cushions that adjust to the user's head size, delivering optimal fit and less pressure on the user's head. Such design choices demonstrate Bose's commitment to providing pilots with a comfortable and fatigue-reducing headset.
In terms of performance, the A20 headset's noise-canceling technology really is top-notch. There's a significant reduction in environmental noise levels, making it easier to concentrate on critical flight tasks and communication.
In my opinion, the Bose A20 headset provides the right balance of functionality, comfort, and performance that pilots need for an optimal in-flight experience.
Comparison with Competitors
What about alternatives to the Bose A20?
The Bose A20 aviation headset is known for its superior active noise reduction (ANR) capabilities, making it a popular choice among pilots. How does it stack up against competitor headsets?
Some noteworthy headsets to consider include:
David Clark Pro-X: Another well-regarded headset, the David Clark Pro-X provides an impressive noise reduction performance, though not quite as effective as the Bose A20. It's also less pricey, making it a strong contender for pilots on a budget.
Lightspeed Zulu 3: Competing closely with the Bose A20 in terms of ANR, the Lightspeed Zulu 3 is an alternative worth considering. This headset features a more durable build, but it's a bit heavier than the Bose A20.
Factors to Consider for Different Users and Circumstances
There are several factors pilots should consider when choosing between the Bose A20 and its competitors:
Flight training: Flight students and instructors may want a headset with a good balance of performance and price. While the Bose A20 offers excellent ANR, the David Clark Pro-X provides a more budget-friendly option for those in flight training.
Professional use: For career pilots, a high-performance headset is crucial for maintaining focus and reducing fatigue during long flights. Both the Bose A20 and Lightspeed Zulu 3 excel in these areas, but the A20s may be more suitable due to its lighter build and superior ANR capabilities.
FAA safety and regulations: All mentioned headsets are compliant with FAA safety regulations so no worries there!
Microphones and communication: Clear communication is crucial for pilots. The Bose A20, Lightspeed Zulu 3, and David Clark Pro-X all offer high-quality microphones, ensuring that users can communicate effectively with ATC and other pilots.
The Bose A20 aviation headset stands out in comparison with its competitors, especially in terms of its active noise reduction capabilities. However, other headsets like the David Clark Pro-X and Lightspeed Zulu 3 are also worthwhile considering.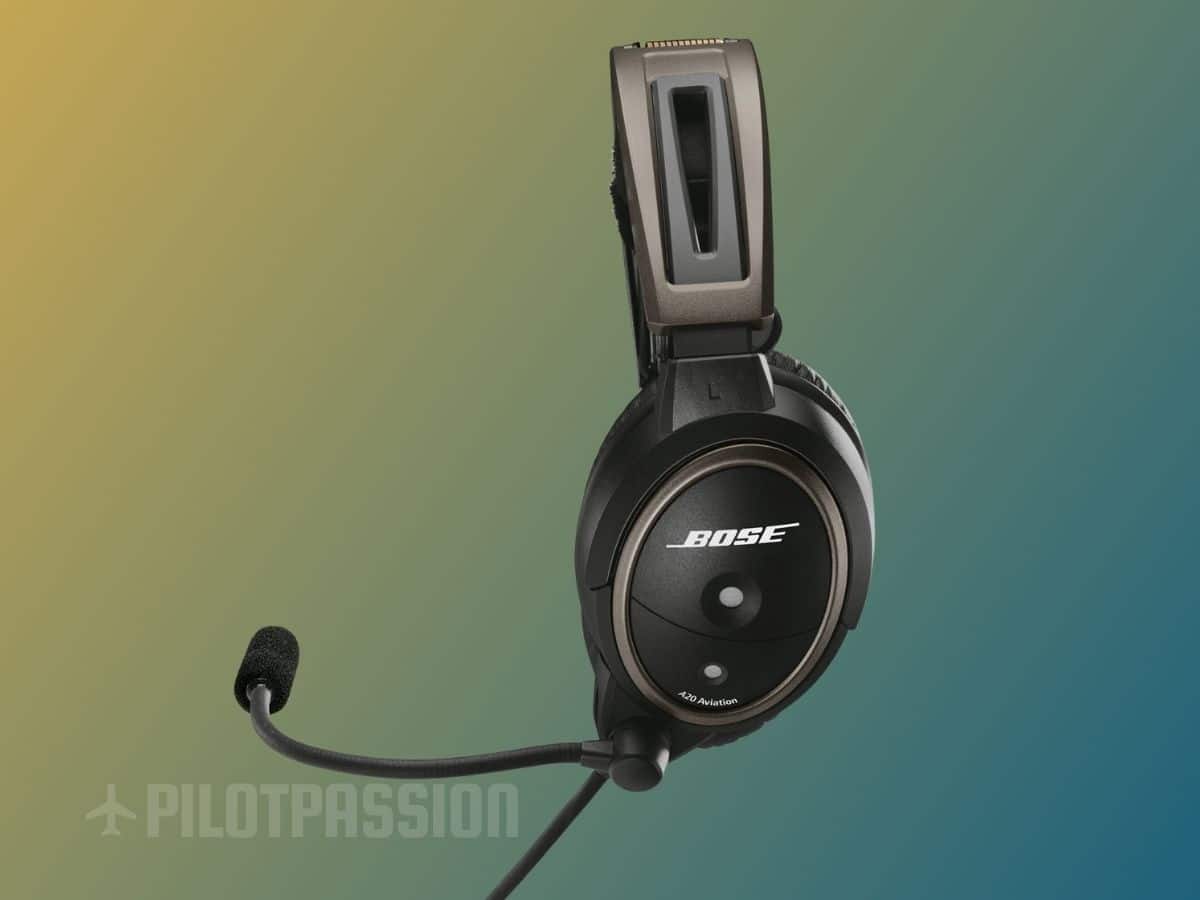 Evolution and Design Choices
Evolution from Previous Models and Addressing Issues
The Bose A20 pilot headset has undergone significant improvements compared to its predecessors. The evolution of the Bose headset line started with an emphasis on active noise cancellation technology, which has only gotten better with each generation.
Key Design Choices and Their Effects on Users
The Bose A20 headset boasts some thoughtful design choices that aim to maximize user comfort and overall experience.
Let's recap on some of the key design features:
Weight and clamping force: The A20 weighs only 340g, making it one of the lightest over-ear headsets available. You'll hardly notice any clamping force on your head, they're super comfortable.
Sheepskin cushion for comfort: great for a long trip.
Build materials: The A20 headset uses a combination of plastic and metal components to strike a balance between durability and weight. A completely metal build might last longer but it could compromise comfort due to the increased weight.
Compatibility with flight bags and cockpits: The A20 has been designed with the diverse space limitations of various aircraft cockpits in mind. It is compact enough to fit into a variety of flight bags and adjusts well to different cockpit environments.
Pros and Cons of The Bose A20 Headset for Pilots
Advantages of the Bose A20
The Bose A20 headset is known for its excellent noise reduction capabilities. The headset utilizes both passive and active noise reduction to provide a quieter environment for pilots. Bose claims that the A20 offers 30% greater noise reduction compared to conventional headsets. This ensures clear communication between the pilot and air traffic control.
Another significant advantage of the Bose A20 is its comfort. The headset weighs only 12 ounces, making it lightweight and easy to wear during long flights. The clamping pressure is also well-balanced, ensuring the headset stays on without causing discomfort. Sheepskin cushions further enhance the comfort of the Bose A20, making it a popular choice for pilots who prioritize wearing comfort.
From a design perspective, the Bose A20 has a low-profile external appearance which appeals to many users.
The overall build quality of the A20 is excellent, with an emphasis on durability.
Room For Improvement – Drawbacks of the A20
While there are many benefits to the Bose A20 aviation headset, there are also some drawbacks to consider. One potential issue is the price. The A20 is considered a premium headset, and as such, comes with a higher price tag than some of its competitors. I personally view this as "you get what you pay for."
Another possible disadvantage is the on-ear speaker design. Although the A20's speakers are comfortable for most pilots, some users may prefer the soft, on-ear speakers found in headsets like the DC Pro-X.
The Bose A20's customer service has also received mixed reviews. While many users report positive experiences, others have mentioned lengthy wait times and difficulty resolving issues. It is essential to consider this aspect when investing in a premium aviation headset.
All of this is subjective of course.
Real-world User Reviews and Testimonials
Pilot Experiences
Most of my pilot friends have the Bose A20 headset. Some of them wear the headset for 12-hour days without any issues.
When you look around the web, most reviews praise the Bose A20 for its lightweight design, weighing only 12 ounces, along with its sheepskin cushions that provide optimum comfort. The reviews are overwhelmingly positive.
Additional Resources and Useful Links
Relevant Articles and Comparisons
In order to better understand the Bose A20 aviation headset, analyzing various reviews and comparisons with different headsets is helpful.
A comprehensive review of the Bose A20 aviation headset can be found on KC The Pilot Blog, where the author describes its comfort level and exceptional noise-cancelling abilities. Another user's perspective on the headset can be found on Disciples of Flight, where the comfort during flight is compared to wearing marshmallows over the ears.
For a comparison between the Bose A20 headset and the previously popular David Clark H10 headset, KC The Pilot also provides the necessary insight. The 2020 Aviation Headset Guide by Plane & Pilot magazine also offers a rundown of other headsets in the market, including the Bose A20 among top contenders.
Where To Buy
The Bose A20 aviation headset can be found at various retailers. It's essential to explore different options to find the best price, shipping, and customer service experience. Some reputable sellers include:
Official Bose Store: Purchasing from the official store ensures authenticity and warranty coverage, while also providing options for customizations and accessory purchases like a carrying case.
Amazon: Purchasing on Amazon often provides convenience and potentially faster shipping options. Users may also find user reviews and questions answered by other buyers, which can be helpful in making an informed decision.
Sporty's Pilot Shop: Another website dedicated to aviation, Sporty's Pilot Shop, provides an option for purchasing the Bose A20 headset along with other aviation gear and accessories.
When comparing different sellers, always keep in mind factors such as price, shipping costs, and their return policy, to ensure a positive purchasing experience.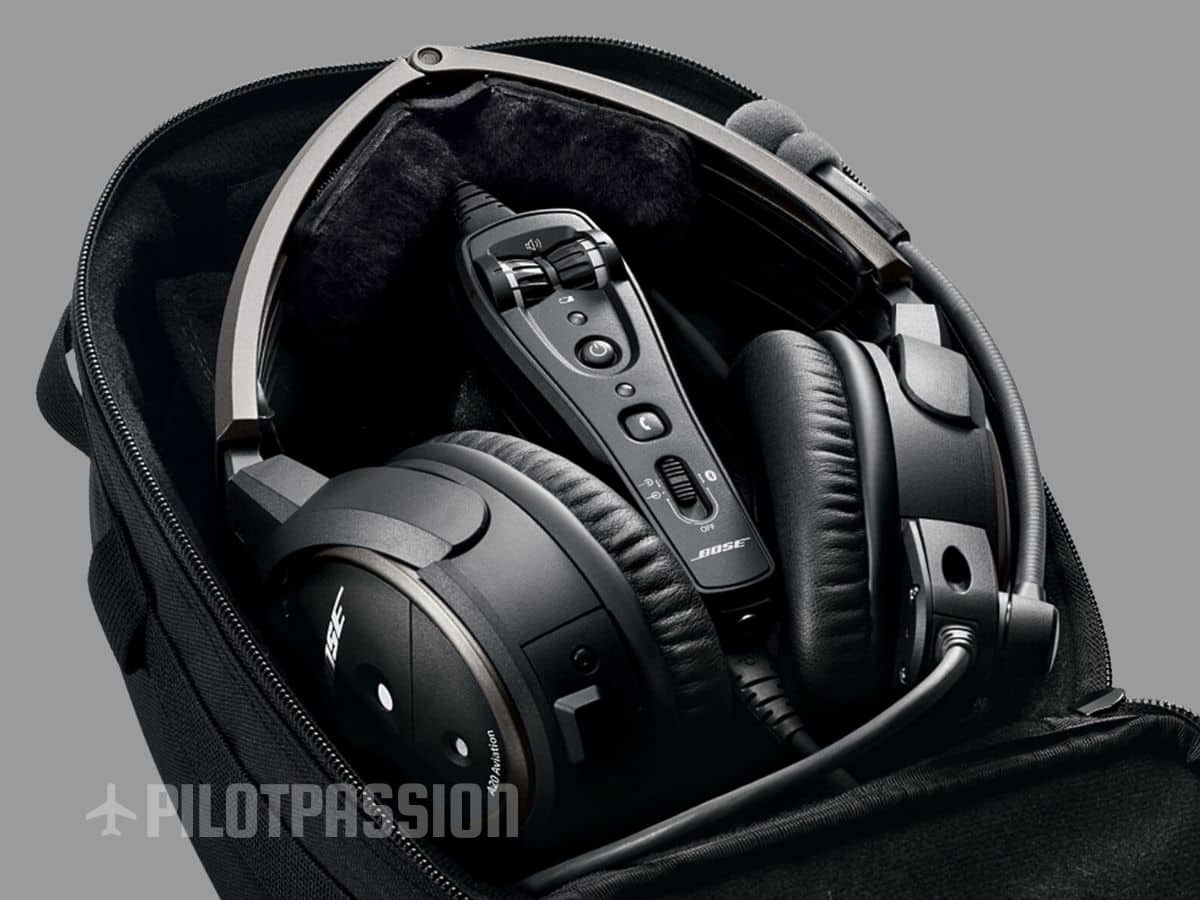 Final Thoughts
The Bose A20 Pilot Headset is a top-notch aviation headset known for its exceptional noise reduction, audio quality, and comfort. I love this headset and I can use them on long flights without any problems.
I really like the lightweight design and the sheepskin cushions fit so snug and comfortably.
Compared to competitors, I think the Bose A20 outperforms by setting itself apart with its advanced noise-canceling technology and sleek design.
Pros:
Exceptional noise reduction
Comfortable even during long flights
Durable and built to last
Cons:
Expensive
May be more advanced than necessary for casual pilots
Best Seller #1