As an Amazon Associate I earn from qualifying purchases.

The Bose A30 Aviation Headset enters the market as the latest generation in Bose's line of industry-renowned pilot headsets.
Designed with the needs of professional and recreational pilots in mind, the A30 boasts enhanced comfort, digital noise cancellation, and user-friendly features to make flying more enjoyable and efficient.
In this Bose A30 Pilot Headset review, we will explore the various aspects that make the A30 stand out among its competitors and provide valuable insights for those considering whether to invest in this state-of-the-art headset.
Does the A30 headset live up to the hype? Let's find out!
At PilotPassion, our aim is to provide you with the most interesting and relevant aviation content. As aviation enthusiasts and student private pilots, we strive to put ourselves in your shoes when creating this information. This review is part of my overall review on the best aviation headsets for pilots.
One of the main selling points of the Bose A30 is its focus on comfort. With an expanded headband, reduced clamping force, and optimized padding, pilots can wear the headset for long periods without experiencing discomfort or fatigue.
The A30's Active Noise Reduction (ANR) technology offers a significant improvement in noise cancellation compared to its predecessor, the Bose A20. With its digital ANR capability, the A30 provides effective noise cancellation across different types of aircraft, from a Cessna 172 to a Citation.
To further enhance the user experience, the A30 includes Bluetooth connectivity and various customizable settings. The headset offers three noise-canceling modes (High, Medium, and Low) to tailor the sound experience to individual preferences.
The tap-to-disable feature allows pilots to easily listen to external sounds without removing the headset – a convenient option when conversing with ground personnel or passengers.
Bottom line: The Bose A30 headset offers improved comfort, advanced ANR technology, and customizable settings with Bluetooth connectivity, making it suitable for long flights and various aircraft types. Key features include multiple noise-canceling modes and a tap-to-disable function for easy communication. Highly recommended.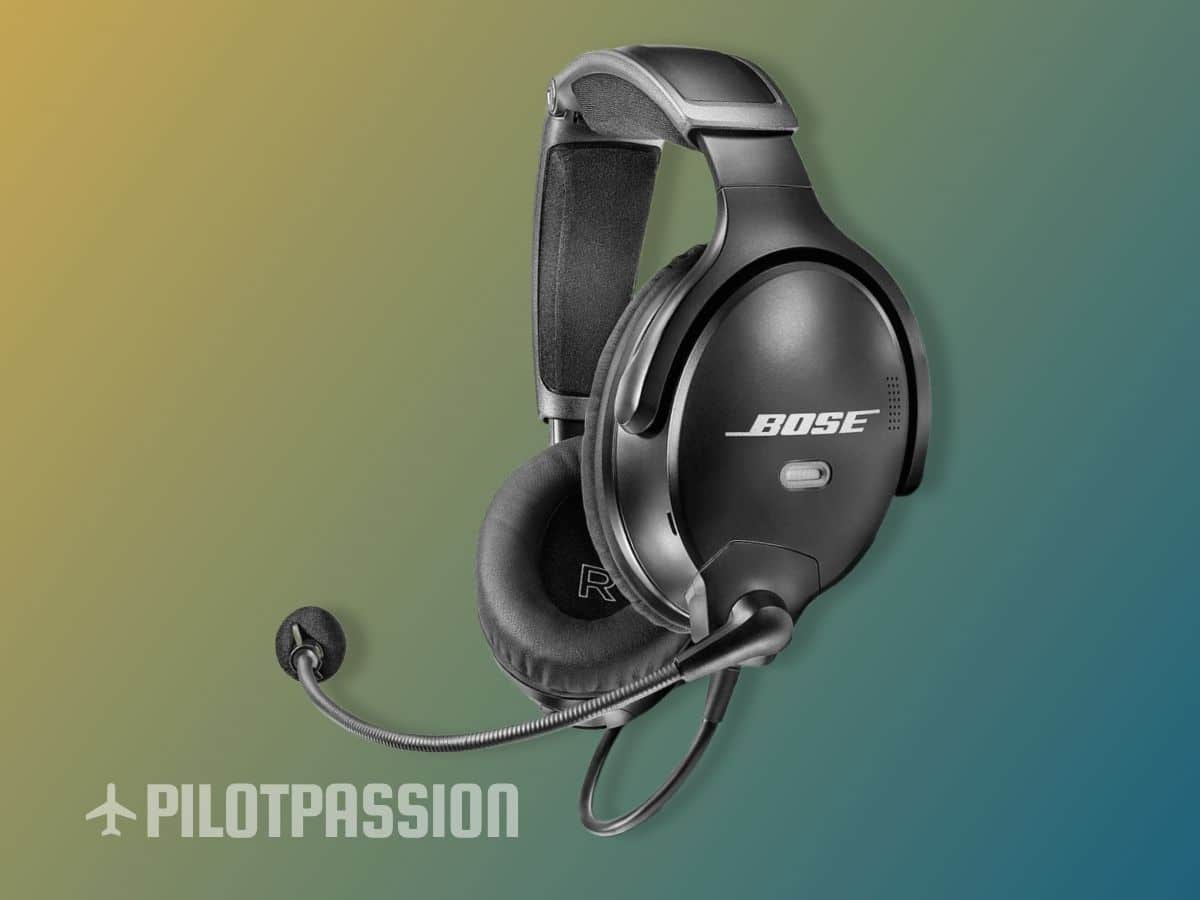 Personal Perspective on the Bose A30 Pilot Headset
The Bose A30 Aviation Headset is a remarkable product designed for pilots who require comfort, noise reduction, and clear communication in noisy environments.
The headset is lightweight, with 20% less clamping force compared to the previous model, the Bose A20 Headset. This is a significant improvement that contributes to a more comfortable wearing experience during long flights.
One of the most striking features of the A30 Aviation Headset is its advanced noise cancellation technology, which successfully minimizes noise in a variety of aircraft.
When chatting to some of my pilot friends who also own the A30 they said it performs really well in canceling noise in various airplanes, from Cessna 172 to Cirrus to Pilatus to Citation. This level of noise reduction allows pilots to lower radio volume and focus on essential communication.
The A30 headset is more than just an upgrade of the previous model; it also incorporates new and existing U.S. patents, making it one of the most heavily patented products from Bose.
The headset's Active Equalization feature ensures unmatched audio clarity which, combined with its comfort and noise reduction qualities, makes the A30 an excellent choice for professional pilots and aviation enthusiasts alike.
Even though the Bose A30 Aviation Headset comes with a higher price tag, it is important to consider its feature set in comparison to other aviation headsets on the market.
The headset's balance of comfort, noise reduction, and audio quality justifies the investment, particularly for users who spend a significant amount of time in the cockpit.
While some may prioritize higher noise-canceling capabilities, others may seek additional features, such as Bluetooth connectivity or customizable audio profiles. So, you'll need to figure out if those features are important to you.
Comparison To the Previous A20 Model
The Bose A30 aviation headset is the successor to the popular and market-leading Bose A20 model. Although the A30 looks very similar to its predecessor, there are several key differences and improvements that set it apart.
Firstly, the Bose A30 features enhanced comfort, achieved through a purposeful design focused on using high-quality materials and redistributing weight throughout the headset. The clamping force has been reduced even further, offering a more comfortable wearing experience for users, especially during long flights.
Secondly, the A30 introduces digital active noise reduction technology, with three distinct modes of active noise cancellation. This advancement allows pilots greater control over the headset's noise reduction capabilities, resulting in a tailored and more enjoyable experience.
The A30 retains many of the favorable features of the A20, such as the excellent audio quality, ANR performance, and Bluetooth connectivity.
The A30's tap control for talk-through communications adds a modern and convenient touch to its design.
To recap, the Bose A30 headset offers a range of improvements to its predecessor, the A20, including:
Enhanced comfort due to redistributed weight and reduced clamping force.
Digital active noise reduction with three modes of active noise cancellation.
Tap control for talk-through communications.
These upgrades provide a more comfortable, adaptable, and technologically advanced headset for aviation enthusiasts and professionals alike.
Features and Specifications
Comfort and Design with Real-World Experience
The Bose A30 Aviation Headset is designed with user comfort in mind. The lightweight design features a full-sized around-ear headset with 20% less clamping force than the Bose A20 Headset, providing maximum comfort during long flights.
The headband has been improved, and the new headband pads seem to spread out the weight more evenly. I can really feel this myself when I wear them. I mean, the A20 are great, but the difference compared to the A30 is noticeably better.
Even though the weight is almost the same as the A20, the headset feels lighter due to its improved weight distribution.
Noise Reduction and Sound Quality
As for noise reduction and sound quality, the Bose A30 boasts unmatched audio clarity with active equalization. This aviation headset is equipped with an advanced digital Active Noise Reduction (ANR) system that enhances noise-canceling capabilities.
It is acknowledged as the industry's quietest and most comfortable active noise canceling headset, suitable for all closed-cockpit aircraft, including military aircraft and helicopters. That's impressive!
Connectivity and Compatibility with Examples
When it comes to connectivity, the Bose A30 Aviation Headset provides Bluetooth connectivity, allowing for seamless connection to smartphones, tablets, or any other device compatible with Bluetooth.
The headset offers additional convenience through its interchangeable cable options, compatible with six different plug configurations and various cable and microphone types. That's plenty for most situations, especially if you record video for your aviation YouTube channel.
Some real-world examples of Bose A30 compatibility include:
Connecting the headset to an aviation radio or other communication system within an aircraft.
Pairing the headset with a smartphone to receive notifications, make calls or listen to music.
Adjusting communication with co-pilots, passengers, or ground support through a customizable plug configuration.
The Bose A30 Headset is a clear-cut choice for pilots and aviation enthusiasts alike, offering top-notch comfort, unparalleled noise reduction, and versatile connectivity options.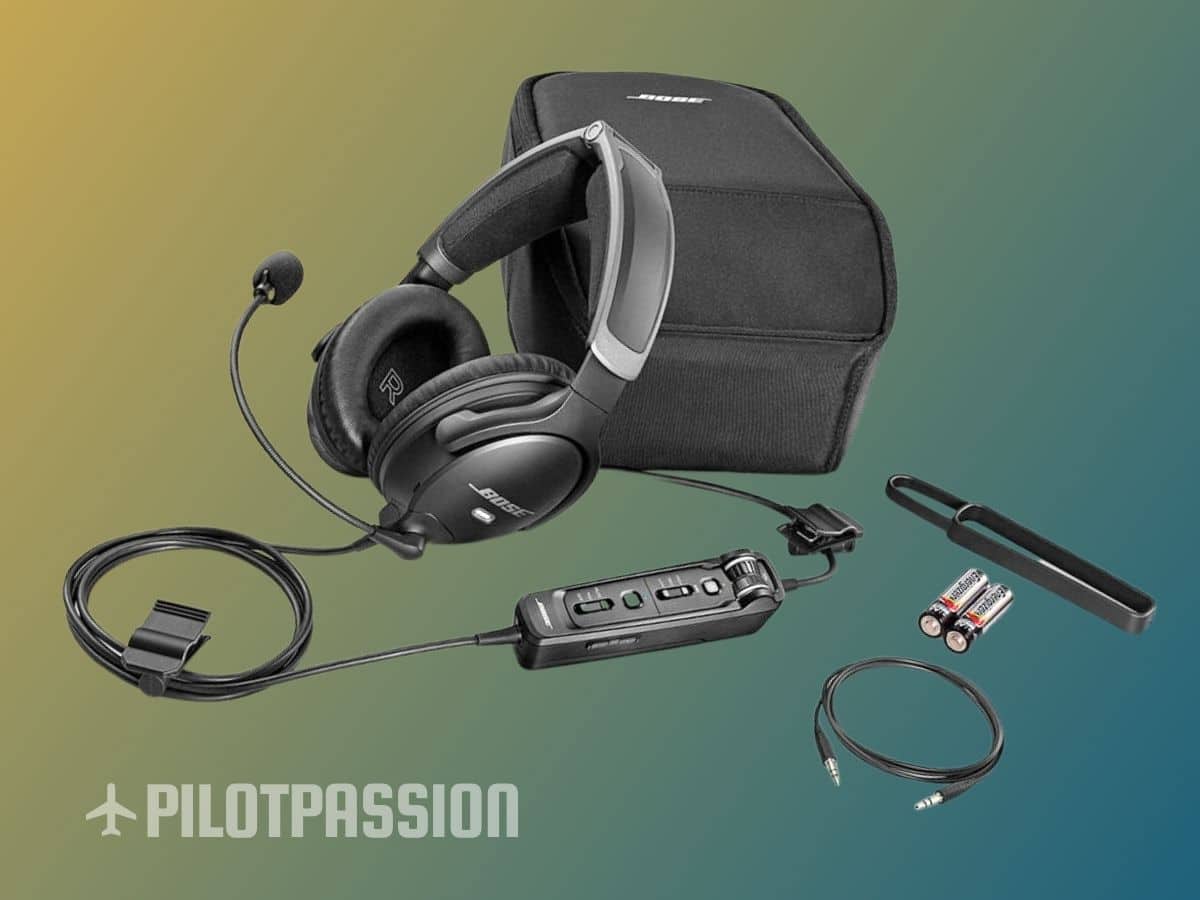 Ease of Use and Functionality
Intuitive Controls
The Bose A30 pilot headset features intuitive controls designed to provide users with a seamless experience. With features such as the tap-to-disable functionality, you can very quickly listen to your surroundings without completely removing the headset.
Battery Life and Power Options
The headset operates on AA batteries, which provide a reasonable battery life for extended periods of use. I prefer using rechargeable batteries for added convenience.
Battery Compartment and Talk-Through Communication
The battery compartment is strategically designed to ensure easy access. This feature, coupled with talk-through communication, allows us to have clear two-way communication without compromising the noise-canceling capabilities of the headset.
Carrying Case
The Bose A30 comes with a high-quality carrying case, ensuring that your investment is protected during transportation and storage.
Volume, Transmission, High Mode, Medium Mode, Low Mode
Thanks to its three noise-canceling modes (high, medium, and low), pilots can tailor their sound experience according to their preferences and flight conditions. The volume and transmission quality are also top-notch, allowing for clear communication during flights.
Professional Pilots, Around-Ear, Enhanced Comfort, Glasses
Professional pilots will appreciate the around-ear design and enhanced comfort of the Bose A30 headset.
The improved weight distribution and headband pads provide long-lasting comfort during extended flights. If you were glasses, you're in luck because the headset accommodates glasses wearers, ensuring a comfortable fit without interference.
5-year Warranty
With a 5-year warranty, the Bose A30 headset is clearly positioned as a high-end product, reflecting the company's confidence in its quality and durability. That's plenty.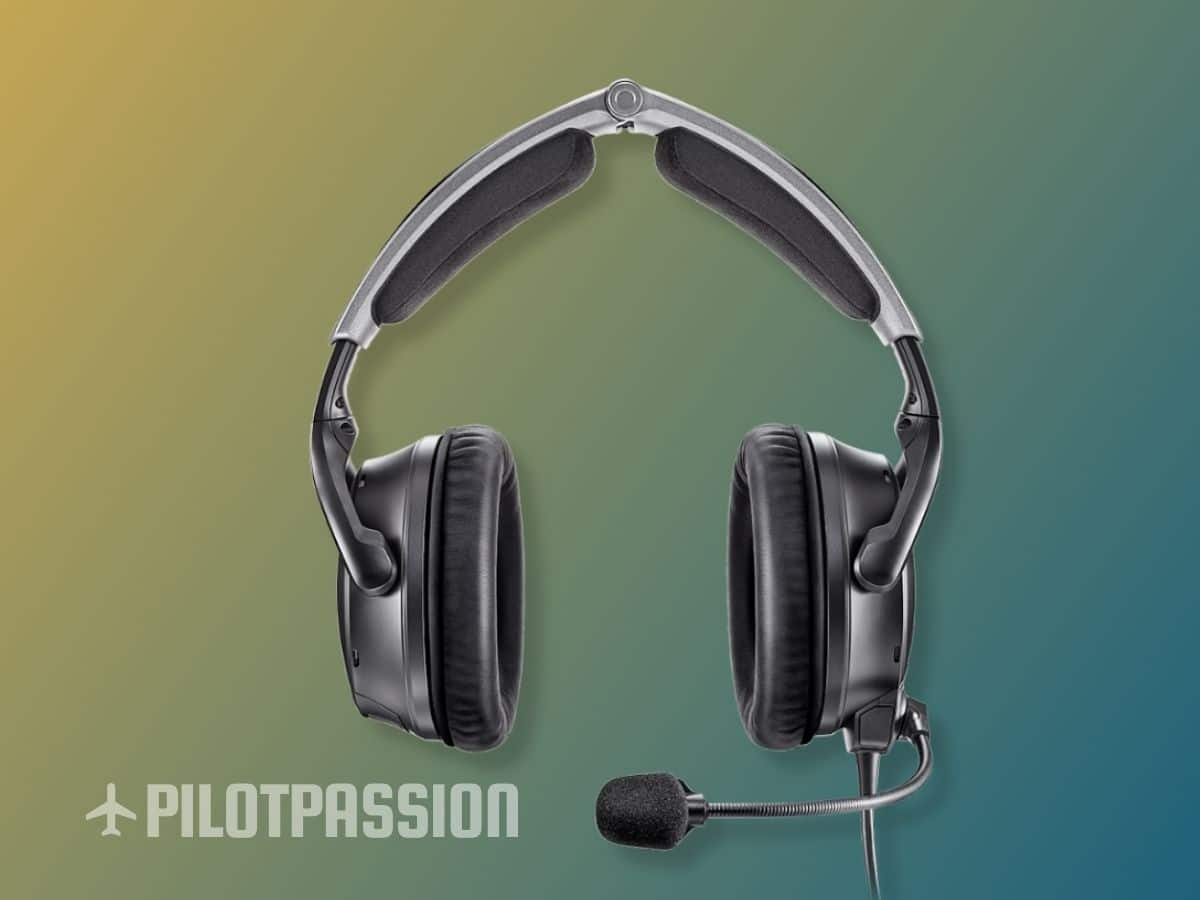 Comparison with Competitors
Competitor Headsets Comparison
When comparing the Bose A30 with other aviation headsets, there are several factors to consider, including weight, durability, and sound quality.
The Bose A30 headset weighs 14.2 ounces, making it ever so slightly lighter than its predecessor, the A20, which weighs 14.46 ounces.
In terms of durability, the Bose A30's overall build quality is highly regarded by the aviation community.
The A30's digital active noise reduction (ANR) is an improvement over the A20 and delivers exceptional sound quality.
The main competitors are the Lightspeed Zulu 3 and the David Clark One-X, which also deliver high levels of noise reduction and comfort. I will admit that the A30s have the edge though.
Factors to Consider for Different Users and Circumstances
When choosing an aviation headset, several factors depend on individual preferences and flight conditions:
Comfort: The A30's improved design, lower clamping force, and balanced weight distribution cater to extended flight durations.
Noise reduction: The digital ANR technology in the A30 is an important feature for pilots flying in noisy environments.
Battery life: With a long-lasting battery life of up to 45 hours on two AA batteries source, the A30 could be an ideal choice for cross-country flights or situations where charging may not be readily available.
Price: The Bose A30 aviation headset is priced at a premium. While it may appear expensive, the quality and features offered by the A30 warrant the cost for those looking for a premium headset. Alternatives like the Lightspeed Zulu 3 and David Clark One-X may provide a more budget-friendly option while still addressing the needs of pilots.
Evolution and Design Choices
Evolution from Previous Model
The Bose A30 aviation headset has evolved from its predecessor, the Bose A20, which has been the market leader for over a decade.
Even though the A30 looks almost identical to the A20, they have made significant improvements in terms of comfort and performance.
One of the critical changes made in the A30 is that it feels lighter, even though the specs show a slight difference in weight. This has been achieved through better weight distribution, making the headset feel more balanced overall.
Key Design Choices
Lightweight and comfortable: The A30 is a featherweight at just 14.2 oz, which makes a significant difference for users who wear the headset for extended periods. The unique design and quality materials used in the A30 ensure that it doesn't feel like a vice on the user's head.
Upgraded headband pads: These new headband pads help to evenly distribute the weight of the headset, adding to the overall comfort.
Improved cable management: A small change in the cable design has resulted in better cable management and increased ease of use. It no longer dangles all over the place!
Aluminum alloy construction: The use of aluminum alloy in the A30's design ensures durability while maintaining a lightweight profile.
From a user's perspective, these design choices make the Bose A30 headset not only comfortable but also an upgrade from previous models.
Pilots and passengers will appreciate the comfort during long flights and the durable construction that ensures a lasting investment in their aviation gear.
Pros and Cons
Advantages of the Bose A30
The Bose A30 headset offers several significant benefits for pilots, including:
Comfort: Despite being almost the same weight as its predecessor, the A20, the A30's weight distribution feels more balanced and the new headband pads spread the weight more evenly, making it more comfortable to wear for long periods. The A30 is also designed to have less clamping force, contributing to improved comfort.
Noise Cancellation: The A30 features three noise-canceling modes: High, Medium, and Low, allowing users to choose a tailored sound experience depending on their environment. This digital noise cancellation contributes to canceling more noise than previous models.
Battery Life: The Bose A30 achieves an impressive 45-hour battery life using just two AA batteries, providing long-lasting performance on long flights.
Microphone: The A30 comes with an improved microphone, ensuring clear communication during flights.
Tap-to-Disable feature: This unique feature allows pilots to listen to external sounds with just a tap, making the headset more convenient in situations when listening to the surroundings is important.
Disadvantages and Considerations
Despite the impressive features of the Bose A30, there are a few potential minor drawbacks or considerations for pilots:
Price: The Bose A30 is a high-end aviation headset, and its cost might be a deterrent for some pilots, particularly those on a tight budget. I think you get what you pay for though.
Size: While the overall comfort of the A30 has been praised, larger-headed users might still experience a slight discomfort due to the design, particularly during extended flight times.
Compatibility: Pilots using older aircraft might need to double-check the compatibility of the Bose A30 headset with their existing avionics systems, to ensure seamless integration with their cockpit.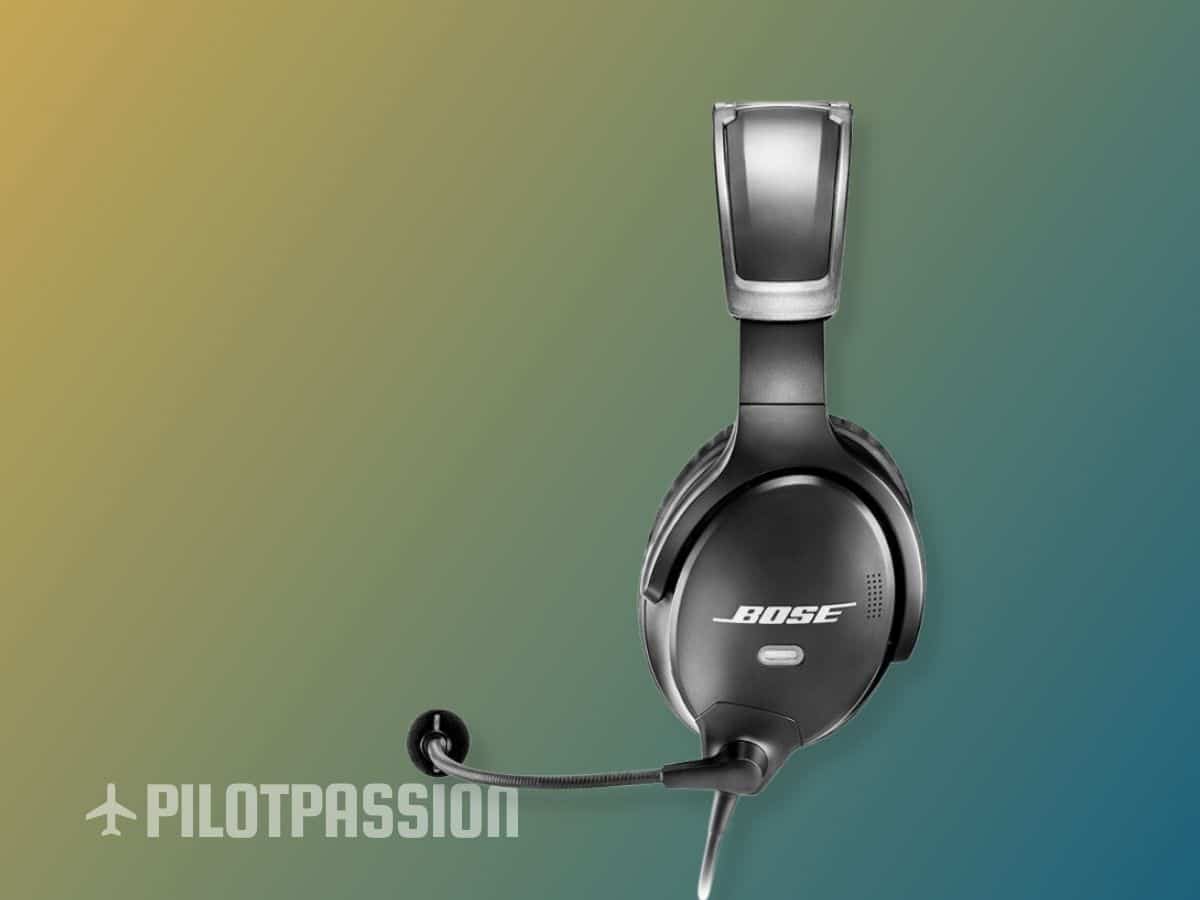 Real-world User Reviews and Testimonials
Pilot Experiences
Pilots who have used the Bose A30 headset in various aircraft, including Cessna 172, Cirrus, Pilatus, and Citation, reported improved comfort and digital Active Noise Reduction (ANR) with this model.
The A30, which appears quite similar to the previous Bose A20, has satisfied users in terms of noise cancellation and communication clarity.
While flying in notoriously loud aircraft such as the Aztec, some of my pilot friends mentioned that they could actually turn down the radio volume, as the A30 provided sufficient noise reduction. This demonstrates the effectiveness of the digital ANR in the real-world aviation environment.
Feedback from Aviation YouTubers
Several YouTube reviews by professional pilots provide visual feedback on the features and performance of the Bose A30 headset.
These videos showcase the comfort, design, and noise reduction capabilities of the product in actual flight scenarios. They highlight the A30's increased padding and streamlined clamping force, which contribute to overall comfort and usability.
Talk-through Communication
One of the notable features in the Bose A30 aviation headset is the talk-through communication system, which enables pilots to communicate with others inside or outside the cockpit without removing the headset.
Users have found this feature to be particularly useful and convenient, enhancing the overall flying experience.
Additional Resources and Useful Links
Relevant Articles and Comparisons
For another comprehensive review of the Bose A30 Aviation Headset, check out this article from AOPA which highlights its comfort, improved microphone, and noise-cancellation features.
To gain further insights into the headset's performance, watch this YouTube video review by AOPA.
Where to Buy?
You can consider buying the Bose A30 Aviation Headset from the following online retailers:
Bose Official Store – Purchase directly from the manufacturer for the latest promotions and warranty support.
Amazon – trusted retailer with good availability.
Sporty's – Purchase from this reputable pilot shop to ensure a seamless shopping experience.
Final Thoughts on the Bose A30 Aviation Headset for Pilots
The Bose A30 Aviation Headset offers improved comfort and digital active noise reduction (ANR) technology making it an industry leader in comfort and noise cancellation.
I find that my flight experience has been nice and quiet and I love them. My friends tell me it performs very well in a wide range of aircraft.
The Bose A30 is a strong contender worth considering. The headset offers Bluetooth connectivity and comes in six different plug configurations, which enhance its appeal for pilots with specific requirements.
I believe that the Bose A30 Aviation Headset represents a solid investment for pilots requiring a feature-rich, comfortable, and reliable headset with excellent noise cancellation capabilities.
As with any product purchase, carefully think about your specific requirements and preferences before making a decision.
Best of luck!